Declaration of Friendship Signed Between Martouni City of Artsakh and Bourg-de-Péage City of France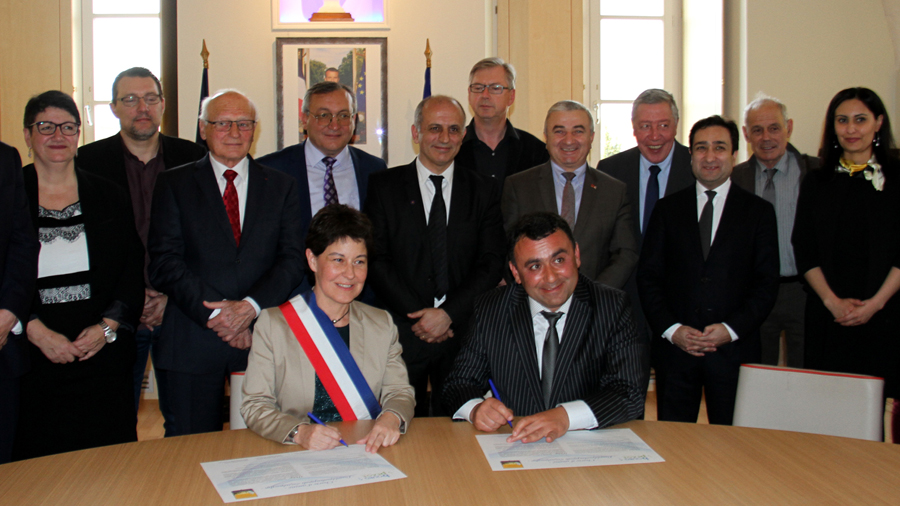 Artsakhpress – On April 3, Artsakh Republic delegation which is on a working visit in France, headed by the President of the National Assembly Ashot Ghoulyan, visited the French city of Bourg-de-Péage and met with Mayor Nathalie Nieson.
At the meeting the sides exchanged views on the activities of local self-government bodies, the opportunities for sharing experiences in that area, after which the delegation accompanied by Mayor Nieson made a tour in the Bourg-de-Péage, Media and Public Relations Department of National Assembly of Artsakh told Artsakhpress.
Then the official ceremony of signing the Declaration of Friendship between the French city of Bourg-de-Péage and the Martuni town of Artsakh took place at the hall of the municipality. The Declaration was signed by Mher Khachatryan and Nathalie Nieson, mayor of the Martouni and Bourg-de-Péage.
Member of the French Senate Didien Guillaume, Deputy Consul of the Republic of Armenia in Lyon Gayaneh Manukyan, Head of the France-Artsakh Friendship Circle Francois Rochebloine and representatives of the Armenian community were present at the ceremony.