CNN to air "Anthony Bourdain Parts Unknown" episode on Armenia May 20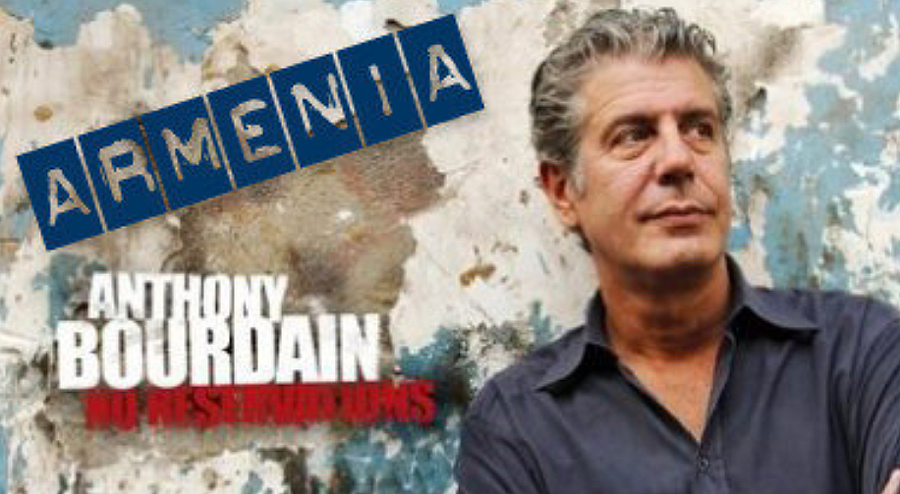 PanARMENIAN – CNN will air the episode of its original series "Anthony Bourdain Parts Unknown" shot in Armenia on May 20, the TV news channel said on Monday, April 9.
Bourdain takes a wide-angle look at the culture and history of this country, with musician of Armenian descent Serj Tankian (System of a Down), and historian/Armenian resident Richard Giragosian as his guides.
Breaking bread with Tankian at a restaurant in downtown Yerevan, during dinners with locals, the host explores the native and Diaspora Armenian populations' survival and achievements against the odds.
Described by The New Yorker as a "swaggering chef," Bourdain has built an empire around food, which started with his New York Times best-selling book "Kitchen Confidential: Adventures in the Culinary Underbelly" (2000). Today, he is well-known as a TV personality and has starred in shows on Food Network and his Travel Channel show, "Anthony Bourdain: No Reservations," which has Bourdain traveling to unexpected locations and indulging in those regions' local culinary traditions.
When in Armenia, Bourdain posted a picture to his social media account of his cameraman, Jerry Risius, boarding a Russian helicopter, likely to make a journey to Artsakh (Nagorno Karabakh), where he has been featured in pictures across social media.
Following that, he joined a plethora of other celebrities, diplomats and ordinary citizens that have been banned from Azerbaijan for visiting Karabakh.