Brooklyn Bridge walk-a-thon for Genocide Awareness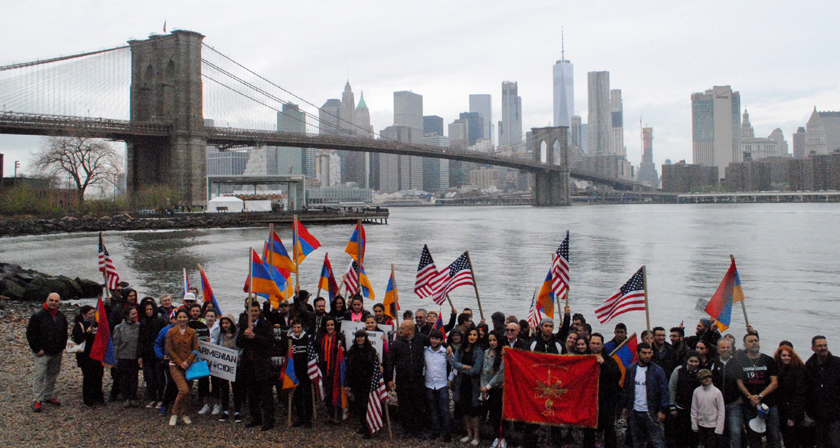 NEW YORK, NY – The iconic Brooklyn Bridge served as a site of awareness for genocide as over 100 people participated in the first annual walk-a-thon for Genocide Awareness on Saturday, April 22, 2017, featuring Armenian Olympians Migran Harutyunyan and Albert Ghazaryan.
Beginning the march at the foot of the Brooklyn Bridge on the Manhattan side by City Hall, participants carried American, Armenian and Artzakh flags, along with posters commemorating the genocides of the 20th century. Informative brochures were passed out to other pedestrians on the bridge, who stopped to take photos and engage in conversation.
Following the walk, the group gathered in Brooklyn Bridge Park, nestled between the Manhattan and Brooklyn Bridges, as Taleen Babayan spoke on behalf of the Knights and Daughters of Vartan and Artur Martirosyan represented the Armenian National Committee. Both organizations planned the event, along with the Armenian Youth Federation of New York.
"The Brooklyn Bridge walk to raise awareness about genocide was a surprisingly intimate experience," said Sheri Jordan, a writer from Westchester. "I will never forget watching the expressions of passersby as they read our signs and smiled at us in solidarity."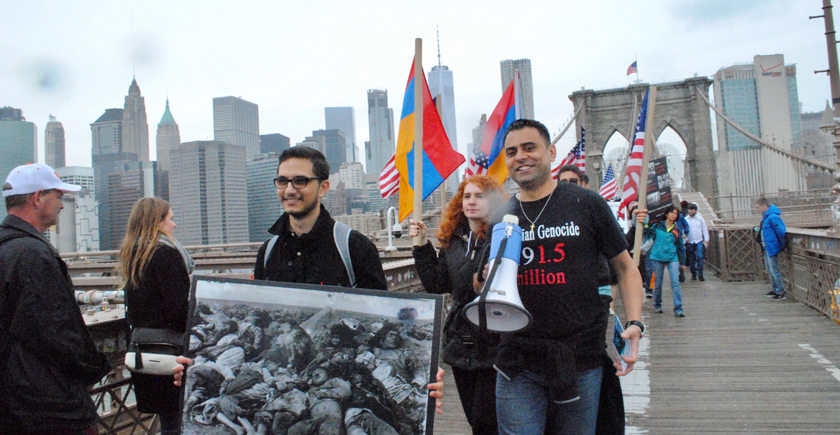 After the short program, the group posed to take photos with Olympic Greco-Roman wrestler Harutunyan and MMA champion Ghazaryan and his coach Hayk Ghukasyan. The gracious guests, who hail from Armenia, shared in conversation with the walk-a-thon participants and expressed their thoughts on the commemoration.
"The walk-a-thon was an original and effective event for genocide awareness, especially during the month of April, a symbolic time for Armenians," said Mesak Sarkissian, a Queens-based member of the Armenian Youth Federation. "I felt proud to hold the Armenian flag while walking over the Brooklyn Bridge and speak to others about the Armenian Genocide and crimes against humanity that continue to occur today around the world."
The walk-a-thon was part of a full program of activities to commemorate the Armenian Genocide, capped by the annual Times Square Armenian Genocide Commemoration sponsored by the Knights and Daughters of Vartan on Sunday, April 23. On the evening of April 22, a youth event was held in Fort Lee, NJ.
"It was stirring to walk the Brooklyn Bridge and see the glow of the colors of the Armenian flag in the breeze," said Naomi Shore, an educator from New York City. "I especially enjoyed crossing paths with the other awareness groups and the Armenian celebrities of peace."
(photo credit: Anoush Gulian)