British Columbia Armenians Commemorate 104th Anniversary of the Armenian Genocide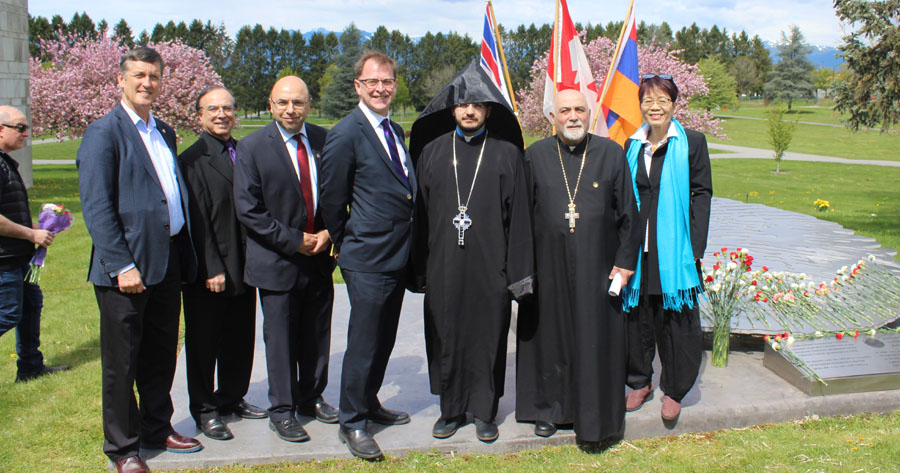 On Sunday April 28th, over 200 members of the Armenian Community of Vancouver and guests gathered for the Commemoration of the 104th Anniversary of the Armenian Genocide, organized by the United Armenian Committee of BC.
The commemoration took place at Mountain View's Armenian Genocide Monument and Celebration Hall.
Following a gathering and prayer at the monument, the commemorative event commenced with MC Sarin Ghougassian inviting everyone to have a moment of silence and then sing the national anthems.
Ms. Ghougassian then called on Hagop Deragopian to introduce in turn the four federal and provincial politicians in attendance and to invite each of them to say a few words.
The politicians in attendance were:
MLA Teresa Wat (Richmond North Centre)
MP Don Davies (Vancouver Kingsway)
NDP candidate and former MP Svend Robinson (Burnaby North Seymour)
MLA and Health Minister Hon. Adrian Dix (Vancouver Kingsway)
The keynote speaker, Raffi Bedrosyan, was introduced by MC Ghougassian. Raffi is the author of many articles which describe the difficult aspects of Armenian life in Turkey, with a focus on his work with 'Hidden Armenians" in Turkey.  He has helped create opportunities for individuals to return to their Armenian roots and culture (and sometimes Christianity as well) after 100 years in "exile".
Mr. Bedrosyan introduced his new book, a collection of essays, entitled "Trauma and Resilience – Armenians in Turkey", and described a few of the many people he met and helped and witnessed as they dug into their Armenian past.
Central to his work has been the restoration and return of Sourp Giragos Church in Diyarbekir back into  a working Armenian church. And that Church, in turn, has been a catalyst and a gathering place for the returning Armenians.
After the presentation, there was a lively Q&A session, giving Raffi a chance to answer questions from the audience.