Aurora forum organizers thank goodwill ambassadors and call on global armenians to engage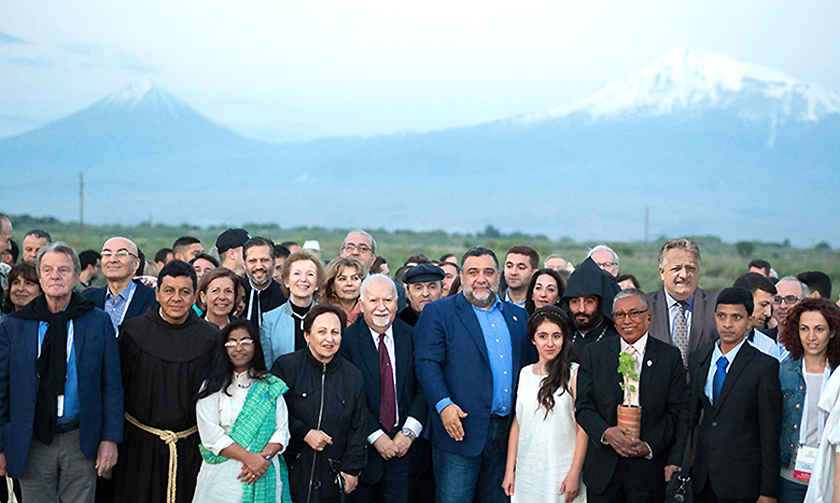 Founders and organizers of the inaugural Aurora Forum express deepest gratitude to 100 Goodwill Ambassadors who joined to support the initiative
February 18, 2019, Yerevan – "The Aurora Forum is based on our belief that global Armenians and all global citizens who aspire to tackle the world's most pressing challenges can do so by embracing the best in humanitarian, educational and technological practices to make lasting advances in social, cultural and scientific spheres," said Noubar Afeyan, Co-Founder of the Aurora Forum. "We are thankful to the ambassadors from around the world who have already joined to make this initiative a success."
"Through our numerous initiatives aimed at Armenia's successful development, we have assembled a large community of supporters and partners. We called for even wider participation and engagement through the 'Global Armenians Open Letter,' printed in New York Times October 28th, 2016," added Ruben Vardanyan, Co-Founder of the Aurora Forum.
The October 2016 Global Armenians Open Letter particularly stated:
"More than a quarter century after gaining its independence from the former Soviet Union, the state of the young Republic of Armenia remains vulnerable, as does the state of the Armenian identity globally. Today, we stand at a historic crossroads. While we are certainly aware of our many challenges, we equally recognize the unprecedented opportunity ahead. An opportunity for the Armenian world to pivot toward a future of prosperity, to transform the post-Soviet Armenian Republic into a vibrant, modern, secure, peaceful and progressive homeland for a global nation. An opportunity for Armenians not only to have survived Genocide, but to reconstitute and thrive. An opportunity for Armenia to secure long-lasting social and economic improvement, for our citizens today as well as for our children and the future of our global nation.
Moving forward, we must have a much higher level of sustained commitment from the Armenian community worldwide, whether through social impact or commercial investment, innovation, expertise or active involvement. In the long run, we must aspire to bring Armenia to no less than the same global standards as those of the countries in which many of us in the Diaspora live.
Beyond individual efforts, we want to instigate an unprecedented spirit of partnership and coordination among all Armenian organizations and individuals. We call on all Armenians to engage in pioneering and long-term investment to restore the social, economic, cultural and technological strengths of the nation, with Armenia at its core. At the same time, we urge the government of Armenia to respond to this clarion call by adopting new development strategies based on inclusiveness and collective action.
Individuals, as well as public and private organizations dedicated to the advancement of Armenia, must come together, pool their resources and collaborate to deliver a better tomorrow for the Armenian people. We believe that in order to succeed, we cannot operate in isolation as Armenian citizens or as Diaspora Armenians, but rather together as a united force".
Since the publication of this call, Armenia has seen constitutional changes, a new President and the unforeseen Velvet Revolution. With a newly-elected leadership and government writing the newest chapter in the country's long history, Armenians around the globe have a chance to activate in unprecedented ways and to collectively engage as co-authors of the future.
In cooperation with countless organizations in Armenia and globally, spanning numerous sectors, the Aurora Forum will focus on humanity's progress and will create a unique opportunity to convene, forge international connections, and discuss current challenges and new solutions. The Aurora Forum's far reaching agenda will be driven by many institutions with a shared commitment to addressing global challenges and local development.
"Exceptional individuals around the world with notable achievement in different fields of human progress are invited to join Aurora Forum to contribute to its vision. There are many leaders who have already joined. Their names will be announced March 10th, 2019 – on a symbolic day of the 4th anniversary of the Aurora Humanitarian Initiative, an institution that has established the Aurora Forum in partnership with IDeA Foundation, FAST Foundation, Scholae Mundi Global Educational Platform and UWC Dilijan College, the international residential school in Dilijan, Armenia," noted Arman Jilavian, Aurora Forum Board member.
The first Aurora Forum will take place in Armenia from October 14 to 21, 2019. The Forum will bring together the world's leading authorities on social, scientific, technological, educational, and humanitarian innovation, marking the first program of its kind in the region.