Artsakh Ombudsman urges not to give in to Azerbaijani manipulations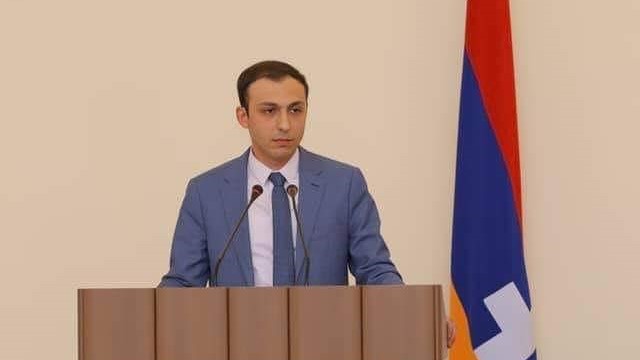 "In an interview with Azerbaijani media, the Azerbaijani leader expressed dissatisfaction with the fact that the Russian peacekeeping force is creating obstacles for the outflow of Armenians from the territory of Artsakh, and is using various means to keep the Armenians in Artsakh. The efforts made by the peacekeepers to restore peaceful life in Artsakh cause dissatisfaction for the Azerbaijani authorities," Artsakh Republic Human Rights Ombudsman gegham Stepanyan said on Wednesday. 
In his words this is nothing but a confession of the Azerbaijani policy of ethnic cleansing of Armenians in the territory of Artsakh, deporting the Armenian population, and depriving them of their homeland.
"The policy of closing the issue by appropriating Artsakh by changing the demographics in favor of the Azerbaijanis is not new in Azerbaijan; it gained more momentum during the rule of Ilham Aliyev's father, Heydar Aliyev, particularly in the 1970s." said Stepanyan.
"Back in 2002, in an interview with the Azerbaijani media, Heydar Aliyev stated in a direct text: "At the same time, I tried to change the demographics there. Nagorno-Karabakh raised the issue of opening a university there. Here [in Azerbaijan] all objected. I thought and decided to open. But with the condition that there are three sectors – Azerbaijani, Russian and Armenian. Opened. We sent Azerbaijanis from the adjacent regions not to Baku, but there [Nagorno-Karabakh Autonomous Oblast]. We opened a big shoe factory there [Nagorno-Karabakh Autonomous Oblast]. There was no labor force in Stepanakert itself. We sent Azerbaijanis there  [NKAO] from the places surrounding the region. By these and other measures, I tried to have more Azerbaijanis in Nagorno-Karabakh, and reduce the number of Armenians."
In this way, the systematic policy of the Azerbaijani authorities to disrupt the peaceful life in Artsakh by all means, to violate basic human rights, to create an atmosphere of fear and despair is aimed at closing the Artsakh issue. That is what Ilham Aliyev's completely false and manipulative data on the number of Armenians living in Artsakh are aimed at. In various statements and interviews, he deliberately presents data that have nothing to do with the real population of Artsakh. Which, by the way, have been refuted several times by the data provided by the Russian side.
I draw the attention of the representatives of the official political circles of different countries, the human rights community, international organizations, I urge not to give in to the Azerbaijani manipulations, to visit Artsakh, or to use objective sources in order to have clear and impartial information about Artsakh," concluded the Ombudsman.