Armenian Relief Society's Appeal for Earthquake Relief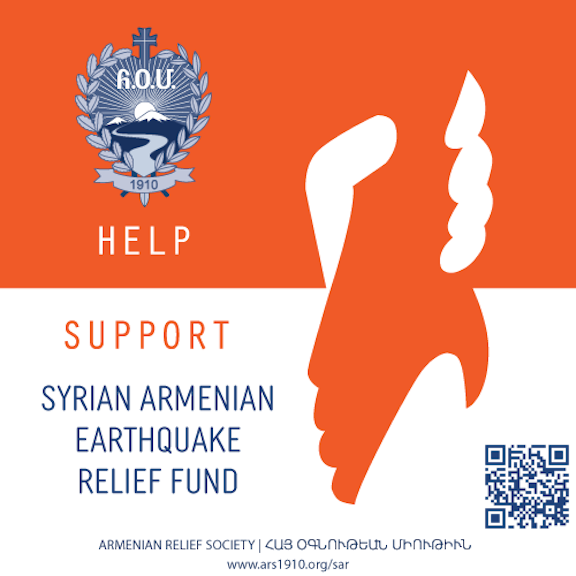 The Armenian Relief Society is deeply concerned about and closely following the aftermath of the devastating 7.8 magnitude earthquake that struck Northern Syria and its bordering areas in the early morning of February 6, 2023. The disastrous earthquake struck hard the Armenian Community of Aleppo. The Armenian Relief Society expresses its solidarity and lends its support to the Syrian Armenian Community, which finds itself amid another challenge to overcome.
As a result of the tremors, there were deaths, injuries, collapsed buildings, and people missing. Rescue efforts are ongoing. According to preliminary data, two (2) Armenians perished, Mirna Minasian Tenekedjian and her son. Mirna was a member of the Armenian Relief Cross of Syria.
Our deepest condolences to the relatives of the victims and the bereaved friends of SOKhach, and wishing a speedy recovery to all the injured.
The Armenian Relief Society always remains on the front line and allegiant to its mission, especially when the Armenian Nation is threatened by disaster. Once again, we appeal for action to Armenians worldwide, all ARS entities, donors, and supporters to take the necessary steps and extend a helping hand to our brethren affected by this severe earthquake.
With the People For the People
The Armenian Relief Society, founded in 1910, is an independent, non-governmental, and non-sectarian organization serving the humanitarian needs of the Armenian people and preserving their cultural identity. Through its vast network of dedicated volunteers in over 27 regions, the ARS is on the front lines, leading our communities toward our collective goals. It plays an active role in providing resources and opportunities to the masses. As an international, humanitarian, Non-Governmental Organization, the ARS advocates for human rights, social justice, self-determination, and civil society in the halls of the international arena as a member of the UN.