Armenian President Visits ANCA Aramian House for Meeting with ARF and ANCA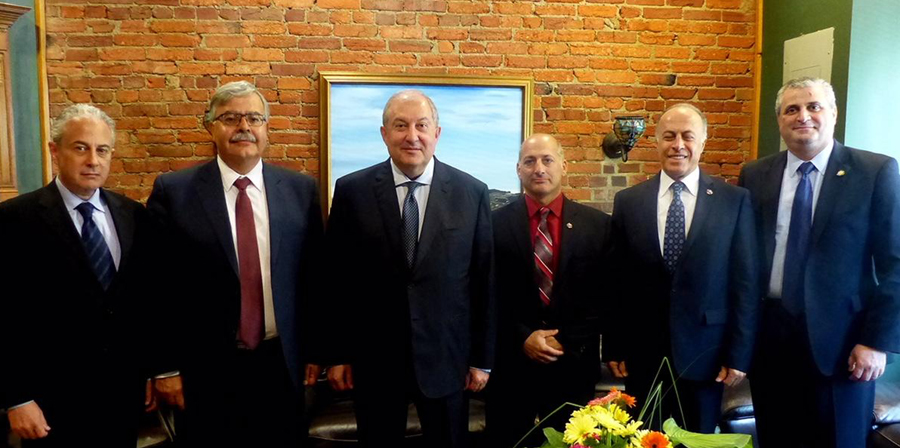 WASHINGTON, DC – Armenia's new President Armen Sarkissian visited the Aramian House in Washington, DC – landmark property that serves as home for the Armenian National Committee of America (ANCA) youth training and job placement programs – for a breakfast meeting with Armenian Revolutionary Federation (ARF) and ANCA.

President Sarkissian, accompanied by Ambassador Grigor Hovhannissian, met with ARF Bureau (World Council) member Hagop Der Khatchaturian, ARF Eastern U.S. Chairman George Aghjayan, and Eastern U.S. Central Committee Members Hayg Oshagan and Jano Avedissian. The ANCA's Aram Hamparian, Elizabeth Chouldjian, and Tereza Yerimyan also took part in the meeting.

A broad array of homeland and diasporan policy priorities were discussed, including those related to regional developments, the new constitutional order in Armenia, domestic reforms, economic progress, Armenia's foreign relations priorities and advocacy-related activities. The Friday, June 29th meeting took place on the morning after the Armenian Embassy hosted a special celebration, featuring the unveiling of a statue of Armenia's first diplomat in Washington, Armen Garo – a leader of the ARF's revolutionary movement and a founding father of the First Armenian Republic.

"We had an important and informative meeting with President Sarkissian and Ambassador Hovhannissian about US-Armenia relations, American-Armenian aspirations, Armenia's needs and priorities; we also addressed the role of the diaspora in building bridges with the homeland and helping it solidify its state foundations and become a beacon of freedom and democracy in the region", said Mr. Der Khatchadurian, ARF Bureau (World Council) member and President of ANC International.

"We welcome this opportunity to meet and exchange views with President Sarkissian on our shared aims and aspirations," said ARF Eastern US Chairman George Aghjayan. "We look forward to continued engagement on all issues of concern to our community and cause."

Prior to the start of the meeting, President Sarkissian greeted young Armenians taking part in the ANCA's advocacy training and career development programs, the Leo Sarkisian Internship and the Hovig Apo Saghdejian Capital Gateway Program.