Armenian National Committee of Australia launches West coast branch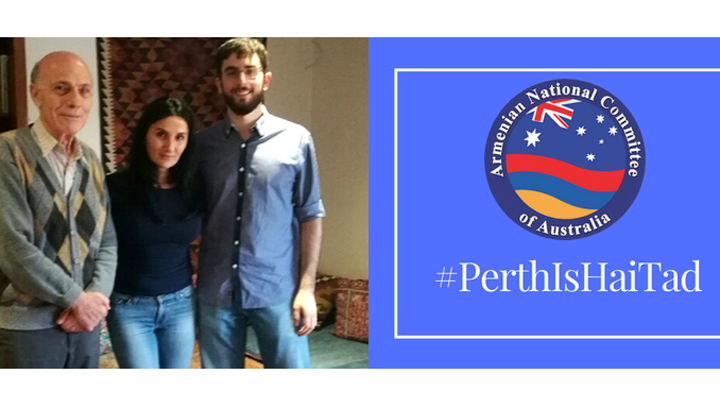 PERTH: The Armenian National Committee of Australia (ANC-AU) has launched its Perth Branch, announcing three Western Australia-based Armenians to coordinate local and state based advocacy efforts on behalf of the community.
Perth-born Zaven Boyadjian, a 23-year-old Doctor of Medicine student at the University of Western Australia, will Chair the ANC-AU Perth Branch, which also includes prominent organisers of the local Armenian community, Emma Tumanyan and Vazken Mavlian.
ANC-AU Executive Director, Haig Kayserian expressed his organisation's delight at this announcement.
"We are ecstatic to announce the formation of the ANC-AU Perth Branch with this talented group of members of the local community," Kayserian said. "This commitment by Zaven, Emma and Vazken represents the first-ever steps to grassroots Armenian advocacy in the great state of Western Australia, and we wish them every success."
The Perth Branch is the second state branch of the Sydney-headquartered ANC-AU after the Melbourne Branch, which will soon be the subject of a separate announcement following a recent restructure. State branches focus on ANC-AU's national advocacy priorities in State and Local politics, including justice for the Armenian Genocide and lasting peace in the Republic of Artsakh, as well as representing local community issues on the ground.
The Perth Armenian community is growing in size and its representation in Australian public affairs was considered a priority by ANC-AU.
"We are excited to hit the ground running as the first-ever ANC-AU Perth Branch," commented Zaven Boyadjian. "When the ANC-AU team visited Perth in February, community members took a keen interest in becoming involved at a grassroots level, and this announcement will be followed by real work and action promoting issues of concern to Armenians in Western Australia."
ANC-AU will continue to engage with Armenians around the country, with the view of forming more localised Branches.