Armenian, Georgian Presidents stress the need to solve conflicts in a peaceful way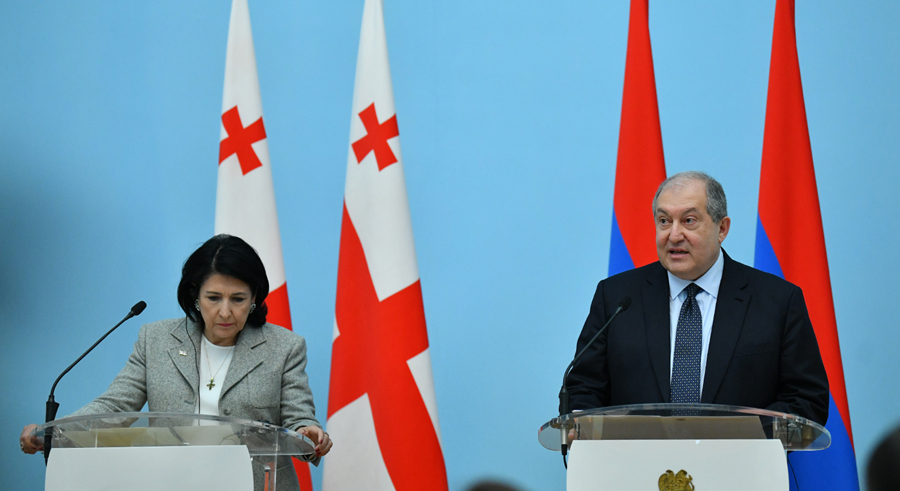 (Armradio) – Armenian-Georgian relations are developing in an atmosphere of mutual understanding and trust, Armenia's President Armen Sarkissian said at a joint press conference with visiting Georgian President Salome Zurabishvili.
"Our common history is distinguished by traditions of friendly countries and a number of civilizational similarities. The multilateral cooperation between our two countries is developing and strengthening on this basis today," President Sarkissian said.
The President stressed that "Armenia has always been interested in shaping and maintaining an environment of peace, security and cooperation in the region."
Armen Sarkissian said they discussed issues of conflict settlement in the region.
"We share the opinion that issues and conflicts are not identical, therefore the bases for their resolution cannot be identical, either," President Sarkissian said.
He stressed the need to seek exceptionally peaceful solutions on the basis of international law and norms, and namely on the basis of respect for the right to self-determination in vase of Artsakh.
Armen Sarkissian attached importance to bilateral cooperation in education, culture and preservation of the cultural heritage.
Georgia's President noted, in turn, that stability and peace are an important precondition for the development economic cooperation between the two countries.
"There are a number of challenges in the region, and it's important to understand that issues should be solved in a peaceful way, that their resolution should be based on international law," she added.
Salome Zurabishvili stressed that for Georgia it's important that regional conflicts not move to the country.
"It is very important to us that Georgian citizens of Armenian or Azerbaijani descent live peacefully in our country and be integrated in our country," the Georgian President added.
She also highlighted the need to solve the issue of border demarcation. She noted that the two countries have a great future and are both optimistic.