Armenian Genocide Photo Exhibited at Azerbaijani Embassy in Tehran as Khojali Photo. Azerbaijani State-Level Fake Propaganda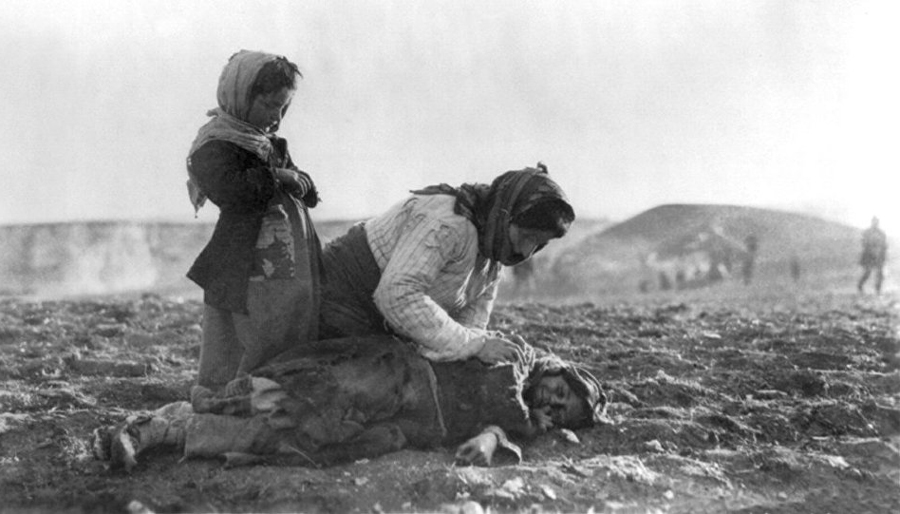 Azerbaijani Government Is Carrying out a State-Level Fake Propaganda on the Khojaly Events
The Azerbaijani embassy in Iran hosted a photo exhibition regarding the Khojaly events, but one of the photo exhibits on the wall didn't have anything to do with Khojaly – it was a more than 100-year-old photo depicting a dying Armenian woman during the Armenian Genocide in the Ottoman Empire.
This bizarre gaffe once more shows that the Azerbaijani government is carrying out a state-level fake propaganda on the Khojaly events, but this time their hasty attempt to choose a photo that would mislead the visitors ended in embarrassment.  The story was revealed by an Iranian media outlet, placing Azerbaijani Ambassador to Iran Buniad Huseynov in an embarrassing situation.
As "Armenpress" reports, referring to Iran-based Araks Armenian weekly, the Iranian Azariha online platform debunked and voiced about the incident by studying the photo.
"An unusual incident has taken place during this year's photo exhibition organized in Tehran, that was organized by the Baku embassy and which was attended by the country's ambassador and several former Iranian diplomats who have served in Baku. What's unusual is that several photos exhibited at this gallery are stolen photos, which actually date back to the times of the Armenian Genocide committed by the Ottoman Empire, which the government of Baku has presented to be Khojaly victims," the Iranian media outlet said in an article entitled "The Lying Shepherd".
Azariha added that a photo depicting a dead woman in a dry desert has been included in the exhibition, whereas Khojaly is located in a semi-mountainous cold and snow-covered area between Aghdam and Askeran.
"Studies of the photo showed that it depicts the forced deportation of Armenians to Syria, Aleppo in the Ottoman Empire: the photo has been taken from the US Library of Congress," Azariha said.