Armenian Genocide movie 'The Promise' screens at Vatican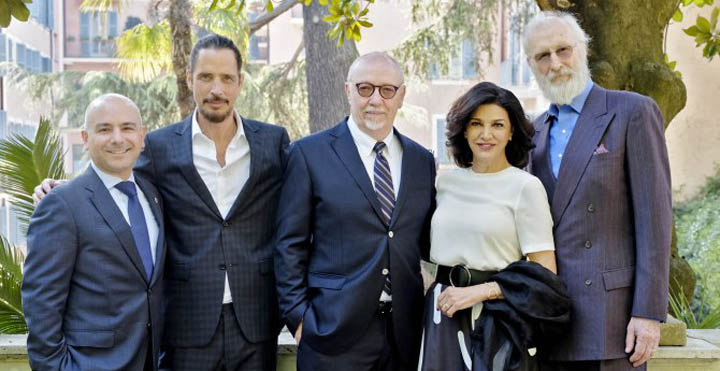 (variety.com) – "The Promise," a movie about the Armenian genocide, screened at the Vatican on Tuesday with director Terry George, producer Eric Esrailian and some talent in attendance, in a clear sign of Catholic Church support ahead of the film's upcoming U.S. release.
The big-budget epic was bankrolled by late billionaire Kirk Kerkorian. Its lead actors, Christian Bale and Oscar Isaac, did not make the trek to Vatican City, but the intimate event held for Vatican officials in the 50-seat Vatican Cinematheque's screening room was attended by stars Shohreh Aghdashloo and James Cromwell and by singer-songwriter Chris Cornell, who composed the theme song.
The Vatican screening comes after Pope Francis last year made his first visit to Armenia. During the visit, he used the term "genocide" to describe the slaughter of an estimated 1.5 million Armenians by Ottoman Turks during World War I.
The pope's remark sparked an angry reaction by the Turkish government, which strongly denies that a genocide occurred, arguing that it was wartime and many Turks were killed as well and insisting there was never a systematic plan to execute Armenians.
Esrailian, head of Survival Pictures, which he set up with Kerkorian to produce "The Promise," traveled to Armenia for the papal visit.
"When he [Pope Francis] mentioned the word 'genocide' once in the big Mass, you could hear a kind of collective gasp and people getting tearful because he spoke really as a world leader," Esrailian recalled. He noted that Armenia was the first nation to adopt Christianity as a state religion, "so it has a special place in Catholicism."
"When there was awareness [within the Vatican] that a major film was being made, we were contacted to screen the movie. So we sent a private link to be viewed," he said.
"The Promise," which world-premiered at the Toronto Film Festival last September, will go on wide release in the U.S. on 2,000 screens via Open Road Films on April 21.
The roughly $100-million film is considered a breakthrough after several attempts to make a Hollywood film about the Armenian genocide failed during past decades because of what director Terry George calls a "denialist lobby," which these days is efficiently run by the government of Turkish President Recep Tayyip Erdogan, he claims.
George said there was a denialist propaganda machine behind "The Ottoman Lieutenant," a film with strikingly similar elements to "The Promise," but which allegedly takes the side of the denialists. "Ottoman Lieutenant" went on release via New York-based Paladin on roughly 200 screens in the U.S. in March.
"It's an Erdogan propaganda film released as a feature film in the United States, remarkably, just ahead of us," the director said. "The Ottoman Lieutenant," which stars Josh Hartnett and Ben Kingsley, was produced by a Turkish company called Eastern Sunrise Films.
Variety critic Dennis Harvey, in his review of "The Ottoman Lieutenant," wrote that, "[in] this primarily Turkish-funded production, the historical, political, ethnic and other intricacies — not to mention that perpetual elephant in the room, the Armenian Genocide, which commenced in 1915 — are glossed over in favor of a generalized 'Whattaya gonna do… war is bad' aura that implies conscience without actually saying anything."
"The Promise" faces its own challenges, including tepid reviews. Variety critic Peter Debruge called it "a sloggy melodrama in which the tragedy of a people is forced to take a back seat to a not especially compelling love triangle."
"The Promise" centers on a love story involving a medical student (Isaac), a journalist (Bale), and the Armenian woman (Charlotte Le Bon) who steals their hearts. All three find themselves grappling with the Ottomans' decision to begin rounding up and persecuting Armenians.
"The construct of the love triangle is clearly there for people who are unaware of the genocide or not particularly that interested in it," said George. "It's a big, old-fashioned love story. I think we've created a classic form of story, and hopefully women in particular will be entertained by it," the director added.
As part of its marketing strategy, Survival Pictures has launched a #KeepThePromise social impact campaign for which it has already recruited Elton John, Barbara Streisand, Andre Agassi, Cher, Sylvester Stallone, among others, for an anti-genocide call to action connected to the film which has a strong philanthropic aspect. Survival Pictures' cut of the box office will go to charities including The Sentry, the non-profit group co-founded by George Clooney and activist and author John Prendergast.