Armenian churches and monuments of Artsakh under Azerbaijani occupation are destroyed ISIS-style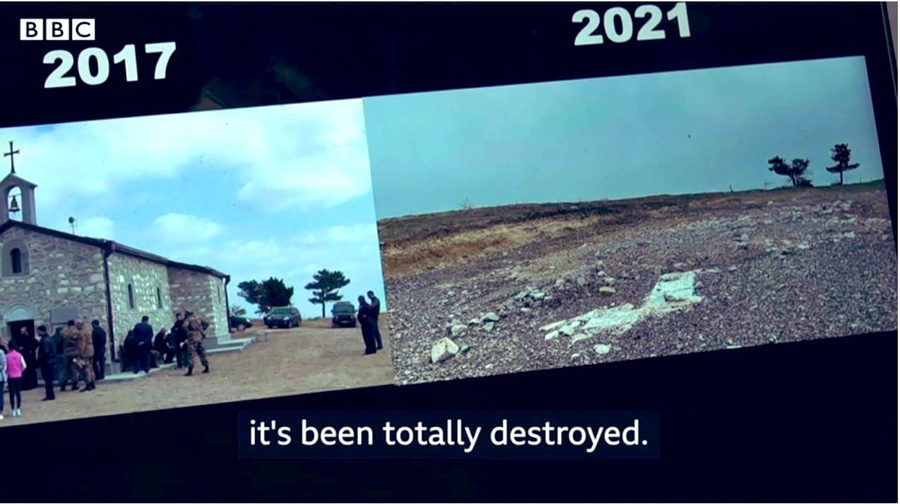 An Armenian church in territories that have come under Azerbaijan's control has been razed to the ground, according to a reportage published by the BBC, Panarmenian reports.
An online video shows the church in Mekhakavan (Jabrayil) was intact when Azerbaijan captured the territory. Although Azerbaijan has said ethnic Armenians "are welcome" to stay in Nagorno-Karabak, it has been erasing the Armenian cultural heritage, including destroying and damaging churches and monuments.
Immediately after capturing Jabrayil, a video was published online to show Azerbaijani troops and Syrian terrorists transferred by Turkey to the region celebrating their advance, dancing on top of the church and removing the bells from the tower.
BBC correspondent Jonah Fisher visited areas occupied by Azerbaijan to investigate the disappearance of the Armenian church. Fisher's team used phones and maps to locate the church, but found it completely destroyed instead. Neither the police officer accompanying them, nor Hikmet Hajiyev, an aide to the Azerbaijani President who was interviewed later, admitted the crime.
During the recent military hostilities, Azerbaijani forces launched two targeted attacks on the Holy Savior Ghazanchetsots Cathedral in Shushi. After the city came under Azerbaijan's control, the domes of another Armenian church commonly known as the Green Chapel were destroyed too. Azerbaijan earlier "restored" a church by replacing its Armenian inscription with glass art.
Furthermore, Azeri President Ilham Aliyev visited the region of Hadrut in territories occupied by Azerbaijan and declared his intention to "renovate" a 12th century Armenian church, which he claimed to be "an Albanian church". Aliyev went so far as to accuse Armenians of leaving "fake inscriptions" in the Armenian language.
Concerns about the preservation of cultural sites in Nagorno-Karabakh are made all the more urgent by the Azerbaijani government's history of systemically destroying indigenous Armenian heritage—acts of both warfare and historical revisionism. The Azerbaijani government has secretly destroyed a striking number of cultural and religious artifacts in the late 20th century. Within Nakhichevan alone, a historically Armenian enclave in Azerbaijan, Azerbaijani forces destroyed at least 89 medieval churches, 5,840 khachkars (Armenian cross stones) and 22,000 historical tombstones between 1997 and 2006.