Armenia, Iran leaders talk bilateral relations, regional cooperation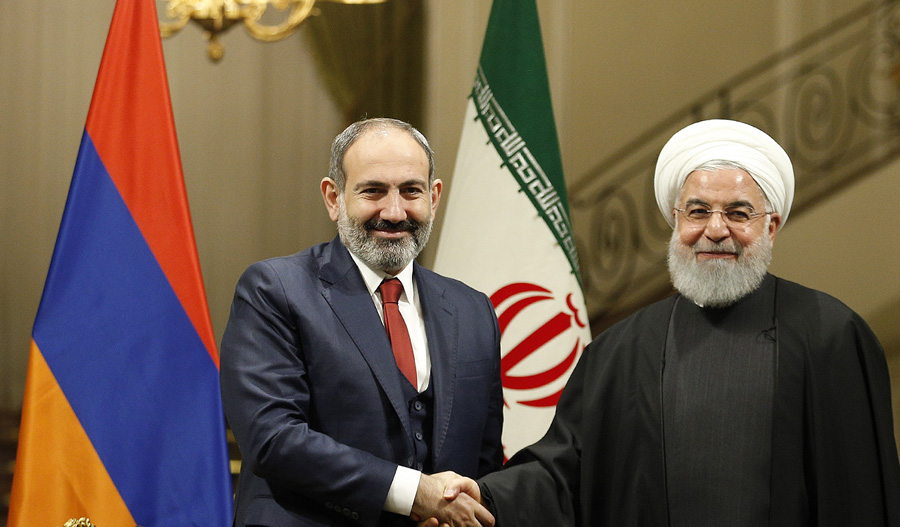 (Armradio) – Iran is close to Armenia not only geographically, but also in term of friendly ties, Armenian Prime Minister Nikol Pashinyan said at a meeting with Iran's President Hassan Rouhani.
The leaders of the two countries held talks at the Royal Saadabad Palace in Tehran.
Hassan Rouhani noted, in turn, that the parties have enough political will to continue reinforcing the Armenian-Iranian relations.
The parties highlighted the importance of construction of the Iran-Armenia 400 KW third power line, which will allow to increase the volume of electricity and gas exchange, thus contributing to the economic cooperation between the two countries and expanding the regional cooperation in the sphere.
The interlocutors also highlighted the implementation of the Meghri Hydroelectric Power Plant and agreed to take practical steps in that direction in the near future.
Nkol Pashinyan and Hassan Rouhani noted that the agreement between Iran and the Eurasian Economic Union will open new perspectives for the further enhancement of trade and economic ties between Armenia and Iran.
They pointed to the development of international transport corridors as an important sphere of cooperation between Armenia and Iran and reflected on the possible participation of the Iranian side in the construction of different sections of the North-South road corridor.
The parties also exchanged views on the perspectives of expansion of cooperation in IT, healthcare, pharmaceutics, tourism, nature protection and humanitarian fields.
Nikol Pashinyan stressed that Armenian-Iranian cooperation contributes to the reinforcement of regional peace and stability. He added that Armenia values Iran's balanced position on the Karabakh issue.
The two leaders agreed that the comprehensive and lasting solution to the Karabakh conflict is possible exceptionally in a peaceful way within the framework of the OSCE Minsk group – the only accepted international format.
Nikol Pashinyan and Hassan Rouhani made a statement for the press following the meeting.