Armenia feels moral obligation to act against recurrence of genocide – FM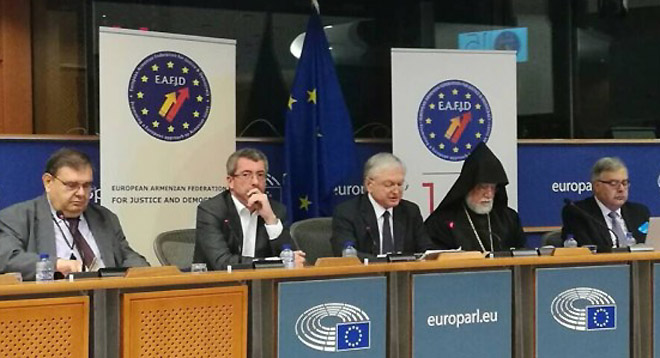 (Armradio) – As a nation that passed through the horrors of the genocide, Armenian feels a moral obligation and an authority to speak out and act against recurrence of genocides, crimes against humanity, Armenian Foreign Minister Edward Nalbandian said in his address at the Fourth European Armenian Convention.
"The most recent initiatives of the Republic of Armenia in this regard made in 2015 were the adoption of the resolution on Genocide prevention at the UN Human Rights Council and the adoption of the resolution on International Day of commemoration of the victims of genocide at the UN General Assembly. These efforts will continue," Minister Nalbandian said.
"Next year we will mark the 70th anniversary of the adoption of the Genocide Convention. Seventy years passed, unfortunately, the world is not immune from this evil. The actions of terrorists against ethnic and religious groups in the Middle East vividly indicate the relevance of the Convention. Armenia was among the first to condemn these acts of terrorist groups," Minister Nalbandian said.
"Unfortunately the Syrian carnage has not bypassed our fellow Armenians, who have suffered along with the Syrian people, other ethnic and religious groups. The Syrian crisis has once again demonstrated that due to the large geographic presence, having hundreds of communities all around the world, Armenians are vulnerable to many global threats. Armenia takes this into full account in its engagements on the international stage – among others on prevention efforts, protection of ethnic and religious minorities, addressing issues of refugees and migrants, participating in peacekeeping missions, joining efforts in the fight against terrorism," Armenia's top diplomat said.