April War hero Marat Petrosyan, who destroyed five Azerbaijani tanks, continues military service as commander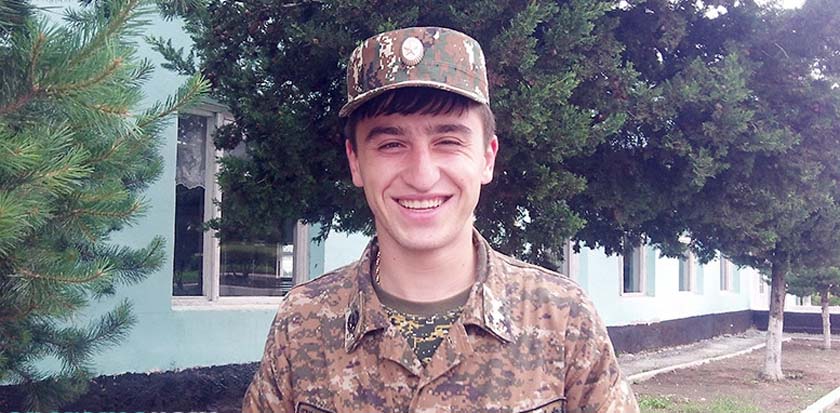 By Hasmik Hakobyan
Panorama
Marat Petrosyan, participant of the 2016 four-day April War and awardee of the Order of the Combat Cross (first degree) of Armenia, who destroyed five Azerbaijani tanks and one armored vehicle, today continues his service at the Defense Army as a platoon commander.
In an interview with Panorama.am, Marat reflected on the April war, noting that it changed a lot in his mentality, further enhancing the homeland defense idea.
"Seeing a lot of things during the April war, I realized that I must continue my service. When I was offered to continue the military service at the Defense Army, I had already taken such a decision. Having served 8 months already, I am very satisfied with it," he added.
Marat says that the military path is very obliging, adding that he is proud to wear officers strap.
Regarding the memories of the clashes early in April 2016, Marat finds them both happy and sad, since he cannot forget the soldiers who sacrificed their lives to their Fatherland.
"We have lost our friends, our brothers. Although I do not know them in person, I consider them my friends," Marat says, adding that the Armenian soldiers taught a good lesion to the enemy at that time. "Fear was not important at that time. We were only thinking about preventing their advancement. Facing a resistance, the adversary was thrown back, suffering significant losses."
A solider from Stepanakert, Marat, who was called a "master" during the April flare-up, says that he had no experience of firing from anti-tank systems when destroying Azerbaijan's five tanks and one armored vehicle. Missing his first shot, he hit the target with the second one.
In parallel to his military service, the April war hero is also studying economy at university, meantime practicing sports.
"I spend my free time with my friends. I have no girlfriend; there is no enough time, besides, it is still early for me. I also want to add that I have no accounts at social networks," Marat jokes.
Although he has destroyed five Azerbaijani tanks, Marat does not consider himself a hero. Only his brother does not miss a chance of being proud of his brother.
To note, Marat's senior brother David Petrosyan was on his way to winning the semi-final match against his Azeri opponent at the European Kung Fu Championship on May 13, 2017, when he was attacked by supporters of the Azerbaijani athlete. Dozens of men from the Azeri camps lurched at the Armenian team members with poles, chairs, and sticks.
The Defense Army commander recommends the conscripts to demonstrate vigilance. "The most important thing is that they fulfil their service normally and be watchful. They must always remember that their relatives are waiting for their return," he added.
In conclusion, Marat says that the Armenian soldiers confidently defend the positions and are ready to give a harsher response should the adversary make any provocation.