ANCC Urges Minister of Foreign Affairs of Canada François-Philippe Champagne to condemn Azerbaijan's aggression towards Armenia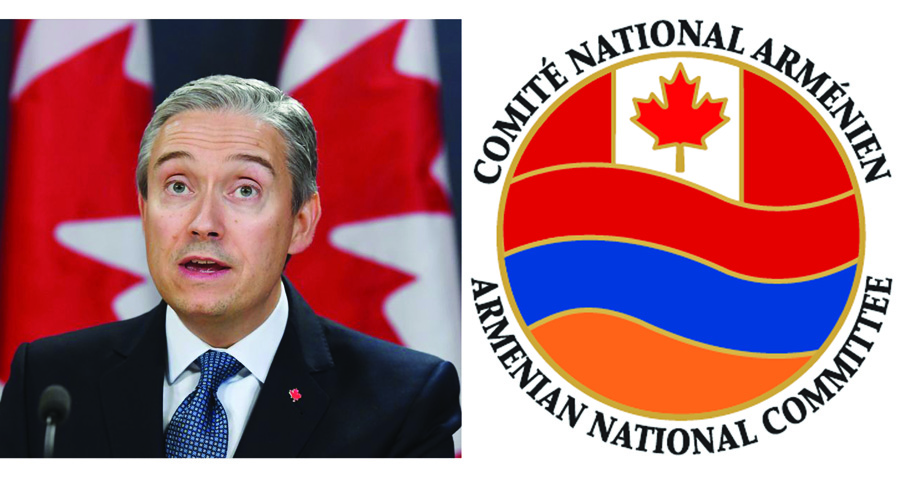 The Armenian National Committee of Canada (ANCC) sent a letter to the Minister of Foreign Affairs, the Hon. François-Philippe Champagne, urging him to categorically and forcefully condemn Azerbaijan's aggression towards Armenia and uphold Canada's support for Armenia's sovereignty and territorial integrity. Below is the text of the letter.
Dear Minister Champagne,
We are writing to you on behalf of the Armenian National Committee of Canada (ANCC) to express the Armenian-Canadian community's profound concern regarding the attempt by Azerbaijani forces to infiltrate the borders of Armenia on Sunday, July 12, 2020 and the subsequent escalation in violence, which includes artillery strikes against civilian Armenian targets.  The situation is growing more concerning by the day as the frequency of attacks increases and Azerbaijan deploys more personnel and arms to the region.
It is very much in the realm of possibility that there could be a resumption of full-scale war in the region with significant civilian casualties. These hostilities began only a week after President Aliyev of Azerbaijan deemed international mediation efforts and the ongoing negotiation process with Armenia as "meaningless".
Despite the ongoing situation surrounding the COVID-19 pandemic and international calls for ceasefire by the United Nations, Azerbaijani authorities are continuing their military aggression, constantly threatening resumption of war and violating international law. It is clear that this aggression and attempt to resume active hostilities are largely being carried out by Azerbaijani authorities to divert their citizens' attention from their domestic failures in regards to the COVID-19 pandemic.
Any violation of the territorial integrity of the Republic of Armenia is unacceptable and must be categorically condemned by Canada and the international community.  Additionally, the statement made by the Turkish Foreign Ministry – unconditionally supporting the illegal actions of the Azerbaijani army – is deplorable and must be addressed accordingly.
As we continue to monitor the situation closely, we urge you to remain vigilant and forcefully condemn Azerbaijani aggression and uphold Canada's support for Armenia's sovereignty and territorial integrity. This is not the time for Canada to call on both sides to deescalate.  The international community must hold the perpetrators of this violence responsible and make it clear that, at this time of international crisis, resorting to violence will have consequences.
Additionally, we are requesting an emergency virtual meeting, where we can properly address this urgent matter and other issues concerning the Armenian-Canadian community.
Thank you for your consideration and we look forward to hearing your positive response.