ANCC launches "Turkey: Thirty Days of Shame" Campaign Revealing the Reality Behind the State of Turkey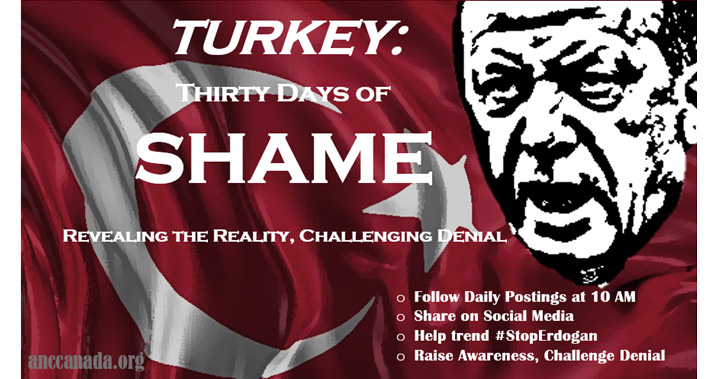 Ottawa – On April 3, 2017, The Armenian National Committee of Canada (ANCC), will launch a media campaign entitled "Turkey: Thirty Days of Shame" aimed at informing Canadians about Turkey's continuous denial of the Armenian Genocide, while highlighting its blatant and consistent abuse of human rights, descent to autocracy and rising threat to regional and global peace.
For the entire month of April, every weekday the ANCC will post one article, video, or human rights report highlighting Turkey's continuing disrespect for human rights and its ruling regime's efforts to gloss over its gross violations with slick propaganda, political bullying, and misinformation.
"Day by day, through the media and other sources, Canadians are becoming more familiar with the true face of the state of Turkey. It's dismal human rights record, disregard to democracy and the rule of law and its state-sponsored policies of political intimidation and discrimination have become defining characteristics of Recep Tayip Erdogan's regime, urging the international community to reconsider its policies towards Turkey" stated ANCC president Mr. Shahen Mirakian.
The daily postings will be made on the ANCC website, the ANCC Facebook page and on the ANCC Twitter page.
Postings will follow particular themes that, amongst others, will include: political freedoms; freedom of speech and expression; President Erdogan's corrupt regime, and; Turkey's continuous denial of the Armenian Genocide.
Details of the information campaign:
When:
One posting every weekday at 10:00am EST starting on Monday, April 3,2017 until Friday, April 28, 2017.
Where:
–          ANCC Website — www.anccanada.org (http://anccanada.org/category/publications/campaign/shame/)
–          ANCC Facebook page — Armenian National Committee of Canada (https://www.facebook.com/ArmenianNationalCommitteeofCanada/)
–          ANCC Twitter page — ANCC_CNAC (https://twitter.com/ancc_cnac)
     *
The ANCC is the largest and the most influential Canadian-Armenian grassroots human rights organization. Working in coordination with a network of offices, chapters, and supporters throughout Canada and affiliated organizations around the world, the ANCC actively advances the concerns of the Canadian-Armenian community on a broad range of issues and works to eliminate abuses of human rights throughout Canada and the world.