ANCC Executive Members Attend Private Screening of 'The Promise'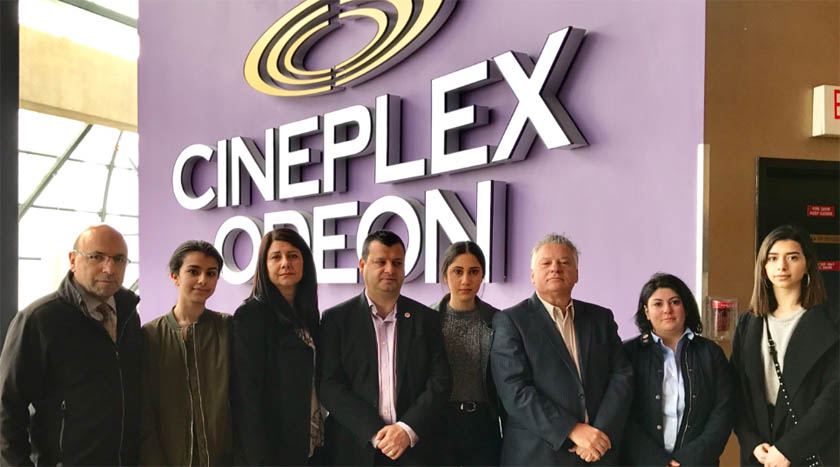 Ottawa –  On April 12, 13 and 17, in Toronto, Montreal and Vancouver respectively, executive members of the Armenian National Committee of Canada (ANCC) attended private screenings of the Armenian Genocide era Hollywood epic, 'The Promise". The private events were hosted by Entertainment One and Les Films Séville, Canada's largest independent film distribution groups and the official Canadian distributors of the film.
 At all three events, members of the largest and most influential Armenian-Canadian grassroots organization had the opportunity to view the film and speak and share their comments with journalists from various Canadian and non-Canadian media agencies.
 Set during the waning days of the Ottoman Turkish Empire, "The Promise" tells the story of a love triangle sparked between an Armenian medical student, Michael (Oscar Issac), Anna (Charlotte Le Bon), and renowned American photojournalist Chris Myers (Christian Bale). The First World War and the Armenian Genocide of the 1915-1923 form the historical backdrop of an epic story of love, loyalty and survival.
 Produced by the late Kirk Kerkorian's Survival Pictures and directed by Academy Award winner Terry George, "The Promise" features an outstanding international cast, including Oscar Isaac, Charlotte Le Bon, Christian Bale, Shohreh Aghdashloo, Angela Sarafyan, and many more. All proceeds from the film will be donated to non-profit organizations, the first time for a film of this scale.
 The ANCC urges the Armenian-Canadian community and the wider Canadian public to attend screenings of "The Promise" and raise awareness about the Armenian Genocide while challenging the continuous denial of this crime by the Turkish Government.