ANCA Briefs Artsakh President Bako Sahakyan at National Headquarters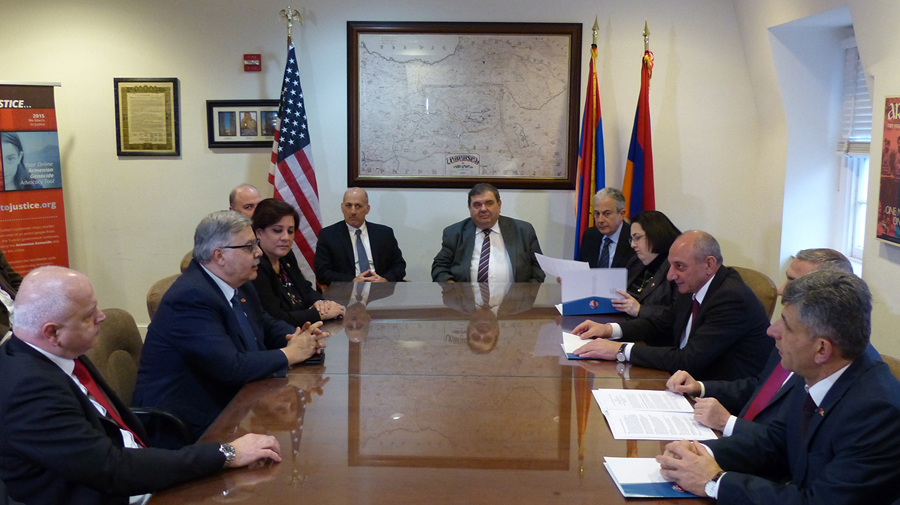 – Shares ANCA Artsakh Advocacy and Youth Development Priorities with Visiting President and his Delegation
WASHINGTON, DC – Artsakh (Nagorno Karabakh) President Bako Sahakyan was joined by his Foreign Minister Masis Mayilian, Parliamentarians David Ishkhanian and David Melkoumyan, and his Deputy Chief of Staff David Babayan at a policy briefing by national and regional leaders of the Armenian National Committee of America (ANCA) on the full array of pro-Artsakh priorities at the national, state, and locals levels of the U.S. government.
Prior to the policy briefing, President Sahakyan visited the Aramian House, the downtown Washington, DC home of the ANCA's signature youth and career development initiatives: The ANCA Hovig Apo Saghdejian Capital Gateway Program and the ANCA Leo Sarkisian Summer Internship Program.  The visiting head of state was welcomed by Gateway Program Director Tereza Yerimyan, who shared the programs, features, and successes during a presentation and tour of the 8-bedroom property in the prestigious Dupont Circle neighborhood.
"We were pleased to welcome President Sahakyan to the Aramian House, a powerful brick-and-mortar symbol the ANCA's long-term investment in our youth and enduring commitment to strengthening America's friendship with the people of Artsakh and Armenia for generations to come," said Gateway Program Director Tereza Yerimyan. "It was an honor to host this first of many visits by an Artsakh head of State, whose warm words of support for our ANCA leadership development programs hold special meaning for us all."
Among those taking part in the briefing were ANCA Board Member Greg Bedian of Illinois, ANCA-Western U.S. Chair Nora Hovsepian, ANCA Eastern U.S. board member Armen Sahakyan and the ANCA Executive Director Aram Hamparian and his Washington DC team.  Accompanying the Artsakh delegation was the republic's Representative in the United States, Robert Avetisyan and Armenian Ambassador to the U.S. Grigor Hovhannessian.
ANCA Communications Director Elizabeth Chouldjian, who led the national-level advocacy section of the briefing, noted afterward, "We welcome high-level policy briefings as truly unique opportunities to share our work, to exchange ideas, and explore pathways forward toward a durable and democratic resolution of outstanding issues between Artsakh and Azerbaijan. Our Artsakh advocacy program – which covers a broad array of policy priorities – aligns with our core aims of independent status and inviolable security for Artsakh's citizens and state."
Among the key issues included in the briefing were:
– Promoting peace/stability, via implementation of Royce-Engel proposals
– Promoting dialogue, via Travel/Communications Act and Artsakh's return to talks
– Continuing direct aid to Artsakh (de-mining and Baroness Cox Rehabilitation Center)
– Cutting/suspending military aid to Azerbaijan (Section 907 of FREEDOM Support Act)
– Supporting Congressional and other U.S. official and non-official travel to Artsakh
– Expanding state recognition of Artsakh (beyond CA, GA, HI, LA, MA ME, MI, RI)
– Opposing potential Iron Dome sale to Azerbaijan (U.S. third-party/arms export laws)
– Seeking Azerbaijan sanctions due to corruption, crackdowns, and regional aggression
– Opposing Azerbaijan's WTO membership due to its blockade and aggression
The ANCA-Western U.S. briefing was led by Nora Hovsepian, while the ANCA Eastern U.S. briefing was offered by Armen Sahakyan. Each presented detailed reviews of state and local advocacy efforts on Artsakh-related issues.
Photos from the briefing are available on the ANCA Facebook Page:
https://www.facebook.com/pg/ancagrassroots/photos/?tab=album&album_id=10155575180451859
President Sahakyan is on a week-long working visit to Washington, DC, where, in addition to meetings with Congressional leaders, he and his delegation have met with media outlets and think tank experts.