Aliyev switches from threatening Armenia to insulting foreign leaders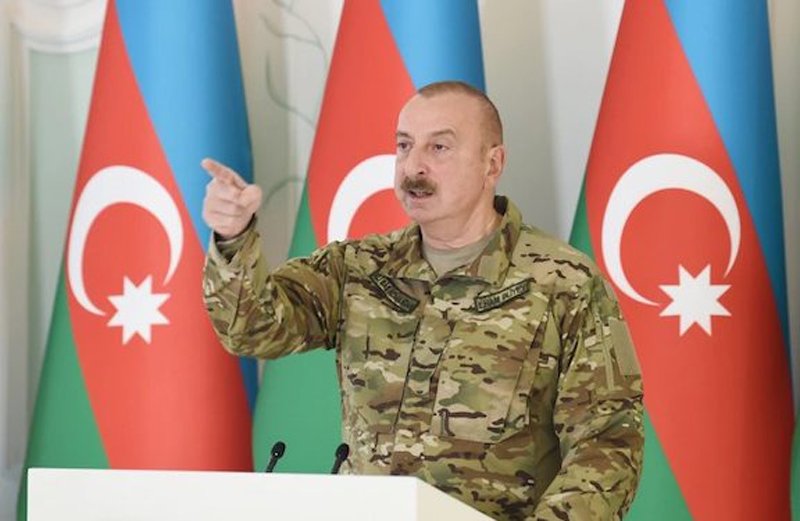 Azerbaijani President Ilham Aliyev visited the occupied Armenian city of Shushi and made a number of statements. Traditionally, threats against Armenia dominated.
To begin with, Aliyev said that next year Azerbaijan's military budget will reach a record high. "Azerbaijan's state budget for next year will reach a record level, including funds allocated for military expenditures. One may ask why, the war is over, two years have passed. The answer is very simple. Revanchist forces are raising their heads in Armenia. There are forces and circles in Armenia which do not want to accept the results of the war," Aliyev explained.
Aliyev further stated that "Armenia does not fully comply with the Statement of November 10, 2020, has not fully withdrawn its armed forces from Karabakh," although not only the statement does not suggest this, but Armenian troops have never been in Artsakh. "Armenia has not given us the Zangezur corridor and periodically carries out military provocations against us. Of course, we have to be ready, and we are," Aliyev complained.
Aliyev added that Azerbaijan "wants peace, does not want war." "We want peace, but a just peace. The conditions we put forward are fair, based on international law, and a peace treaty must be signed on the basis of those conditions. If Armenia shows its will, it (peace treaty) will be signed, if not, it will not be signed. Life will show what will happen next," the Azerbaijani president said.
Aliyev repeated his favorite phrase that "our patience is not unlimited, and if Armenia does not fulfill its commitments, Azerbaijan will take the necessary steps." "We are fulfilling all the commitments we made in the November 10, 2020 statement. We have been fulfilling them for two years, but is Armenia fulfilling them? No! Right after the second Karabakh war, he (Pashinyan) was just so scared that he implemented these provisions and returned the occupied territories of the Agdam, Kelbajar and Lachin regions to us without a single shot fired," Aliyev said.
Speaking about the demand to give back the Zangezur corridor, Aliyev threatened: "For two years, we do not touch the cars coming from Armenia to Karabakh and in the opposite direction along the Lachin road. We are committed to our obligation of free movement. Armenia has also committed itself to providing road links between the western regions of Azerbaijan and the Nakhchivan Autonomous Republic. Two years have passed, there is no feasibility study, there is no movement, no railroad or road. And how long do we have to wait?"
"The current Azerbaijani Army is stronger than it was two years ago, and everyone and Armenia should know it!" continued Aliyev: "Armenia should be well aware of what this means. Today from these strategic heights we can see the cities of Garakilsya, Gafan, Gorus and Istisu (Azerbaijani versions of the names of Armenian cities). We are on the shore of Lake Bala Goycha. The Big Goycha Lake is also in front of our eyes. All these are realities. We created these realities after the Patriotic War. Why? First of all as a response to Armenia's military provocations, on the other hand, to insure ourselves against military provocations in the future. The fact is that most of the Armenian army posts are visible from the heights I mentioned, and if there is a concentration of forces there, we will see it and take immediate action.
Aliyev appealed to some Muslim countries supporting Armenia: "We have established close relations with Muslim countries and we managed to explain them that Armenia is conducting an aggressive policy not only against us but also against the whole Muslim world. Mosque destroyers cannot be friends with Muslim countries. Leaders of Muslim countries cannot accept those who destroy mosques, can they? Can they embrace and kiss them? This is hypocrisy and betrayal, there is no other word for it."
In conclusion, Aliyev moved on to direct insults to the heads of foreign countries.
"It is true that some foreign patrons of Armenia want to accuse us of something. I answered them. If they say anything else, I'll answer them anyway. It won't stop me," Aliyev promised.