6,100 Years of Vinicultural History, Putting Armenia on the Map Once Again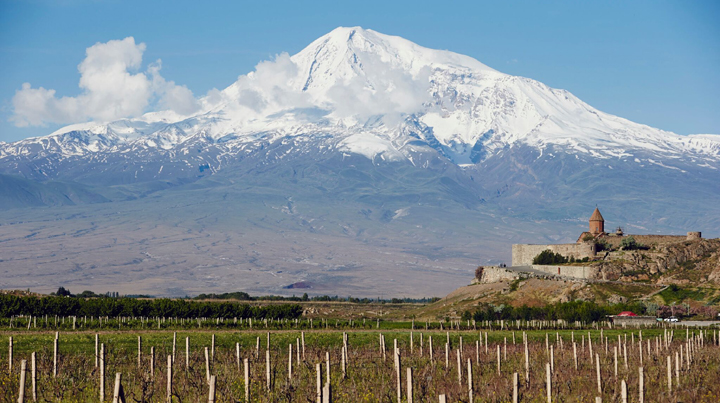 – An attorney, scholar and wine expert, an unlikely trio meet in Armenia and birth a new vintage
Paula Der Matoian
The buzz about Armenian wines is grabbing attention around the world. CNN has taken millions of its viewers on a journey to the Areni region to explain how the Armenian nation's rich heritage of winemaking is creating varieties enjoyed by connaisseurs worldwide.
The Wall Street Journal, Saveur, Smithsonian, Newsweek, National Geographic and Forbes magazines have all featured colorful layouts about a winemaking experience that's more than 6,000 years old.
Bloggers, so-called influencers on social media, travel guides and industry professionals are all talking about the quality and variety of Armenian wines, spreading the news by word of mouth and social media.
One of the newer viniculture ventures, Yacoubian-Hobbs wines, brings together an interesting combination of three people. Paul Hobbs and Viken and Vahe Yacoubian. Hobbs is a world-renowned winemaker. Viken is a Doctor of Psychology and former school principal, and Vahe is an international business litigator and attorney-at-law.
Vahe and Viken Yacoubian
Wine has been in the lives of the Yacoubian brothers since their childhood in Lebanon. Their father, who studied in France after high school, was passionate about wines. He passed on his passion, love and appreciation for good wines to his sons in their native Lebanon.
Viken remembers his first visit to a winery, when his father took his boys to the fertile Bekaa Valley. The region is known for Lebanon's major wineries, and it's where the Yacoubians went to stock up on wine before winters.
"We would go to Ksara for red wine, and Domaine Des Tourelles in Chtaura for the whites," says Viken, who remembers wandering down into the cave where the wine was stored when he was only six. He says that's the moment when his fascination with wine began.
Terroir is how a particular region's climate, soils and aspect (terrain) affect the taste of wine. Some regions are said to have more 'terroir' than others.
"My interest in and emotional connection to wine was because of my father," says Viken.
Paul Hobbs' connection to wine also started with his father. In the late 1960's, Hobbs' father introduced his son to wine with a bottle of 1962 Chateau d'Yquem. With one taste, Paul started his journey into winemaking.
After graduating from UC Davis with a master's degree in viticulture and enology, Paul worked for the prestigious wineries in California's famous Napa Valley. In the late 1980's, Paul visited Argentina and was inspired upon seeing their vineyards and tasting the fruit. Finding an opportunity to make change, Paul dedicated ten years to building their industry.
"Paul Hobbs was instrumental in making Argentina what it is today, working with the Catenas" says Viken. "I see a parallel with Argentina here in Armenia. We are now where Argentina was at that time."
Paul Hobbs opened his own winery in 1994 in Sonoma, while continuing to consult around the world. Paul has won numerous awards, is respected as a top consultant and described as a powerful force in the global wine industry.
By 2004, Viken had grown from a curious child, who explored wine cellars in Lebanon, to a full-fledged wine aficionado and collector. He was the one who made the first connection to Paul Hobbs.
"I tried one of his wines around 2004, and I really loved it. It was a 2001 Cuvée Agustina Pinot Noir," says Viken. "When I came home, I wrote an email about how much I loved the wine''.
Viken sent his fan letter to the winery's general mailbox. He was extremely surprised to receive a response the next morning from Paul Hobbs himself.
"Paul had personally replied, thanking me," says Viken. "He told me Agustina was named after his daughter, and that he'd convey my email to her as well."
Viken says their friendship started after their first email exchange and paved the way for a partnership six years later.
Yacoubian-Hobbs is at the infancy stage, and start-ups in the wine industry are labor intensive and time consuming. New vineyards take time to be properly cultivated before the first batch of wine is produced. Products can take years, even a decade before owners are convinced the wine has been properly developed. For the owners, it takes patience and perseverance; they become parents of the vines.
Yacoubian brothers convinced Paul Hobbs to come to Armenia. They had several trips before deciding to move forward with the project. "Paul began to admire Armenia very much, not only for the potential. But also the challenge for him was exciting," says Viken.
The Yacoubian brothers and Paul Hobbs scouted the country for potential vineyard sites, studying climate and water data, and finally choosing Aghavnadzor Village, in the Vayots Dzor area, about 40 kilometers northeast of Yerevan.
"The elevation was a very interesting factor," says Viken. "Our vineyard is at about 1,350 meters which is amazingly high."
Grapes grown at higher elevations develop different characteristics. Each regional wine can be distinct from vineyard to vineyard. Wines are individualized depending upon the localized conditions of the vineyards. Predicting how the wines will turn out is nearly impossible, but for a winemaker, this adds to the allure of the venture.
Vayots Dzor is home to the Areni-1 archeological site. A 6,100-year-old cave, containing the world's earliest known winery, was discovered there in 2011. It is estimated that winemaking has existed in Armenia since 400 BC.
"In the last 10 years you see exponential improvements in wine. Ten years ago, you didn't see much interest, none, but now there is tremendous interest in wine. Therefore, when the demand is high, people are more serious about how they treat their vineyards, and how they treat the making of the wine." Viken Yacoubian.
"In the last 10 years you see exponential improvements in wine. Ten years ago, you didn't see much interest, none" says Viken, "but now there is tremendous interest in wine. Therefore, when the demand is high, people are more serious about how they treat their vineyards, and how they treat the making of the wine."
Yacoubian-Hobbs wine started three years ago, by planting cuttings that were brought from California. Cuttings are first planted in a nursery, allowed to mature, then moved to the vineyard.
The vineyard preparation was completed with the installation of drip irrigation and cement posts for the rows. And in November 2016, after the vines are "asleep" in winter dormancy, they will be transplanted.
Several varieties have initially been planted: Cabernet Sauvignon, Pinot Noir, Syrah, Cabernet Franc, Petit Verdot, Chardonnay, Sauvignon Blanc, and most recently the local Areni variety. But not all will be turned into wine.
"I still don't know exactly which variety is going to be used for the wine," says Viken. "We need to see how each is going to react and how each is going to perform in that terroir. We're still experimenting. After they're planted, then we wait." He poetically explains that the grapes themselves will make the decision on which variety will be turned into wine.
While waiting five to six years for their vineyard to mature, the trio decided to experiment with local Areni grapes and produce their first vintage.
"We made a very small production of Areni in 2014, and we loved it." says Viken. "We loved how it came out. It's different, in terms of taste, than the Areni that you're used to. I would venture to say it's kind of a new world wine from a historical world. An interesting analogy for us with our Diasporic identities."
The trio then brought in tanks from Italy, and oak barrels from France for the reserves. They rented space inside a local winery, operated by Vahe Keushguerian, creating a winery within a winery, located in a former Soviet factory in southern Yerevan.
"We're collaborating with Vahe to use his space, and the talented winemaker Armen Manukyan works with us," says Viken. "Paul provides all the protocols and comes here for all the tastings and the blendings."
The Yacoubian-Hobbs bottle labels were created in Armenia by a local designer. The artwork was inspired by an amphora found in the 6,100-year-old wine cave. Viken ventures to guess that markings appearing along the rim represent grapes or a marker of measure or age of the wine that was contained inside.
The name of the village will also appear on the label. "We're very specific about where the grapes are coming from," says Viken. "That's something very different than from what they normally do here. They usually say only Areni."
Three men from various backgrounds and professions are preparing for the debut of their own vintage. They were brought together by chance and their love for wine, and they decided to work together in a land that's been home to winemakers for thousands of years.
"The idea of making wine as a business really came from the passion for wine," says Viken. "Initially, the business aspect wasn't there at all. But with Armenia and the connections, the identity, the symbolism, all of that brought the Yacoubian-Hobbs venture together. It's a very interesting kind of coincidence. Maybe it's destiny. That's our beginning. The Genesis of the story."
The trio is cautious to be respectful of the traditional Armenian farming and winemaking methods used by the local villagers, but they have introduced new protocols to ensure the quality of their own wine is exactly what they desire.
The blending of grapes and ideas, patience and commitment may result in success for these passionate winemakers. Their labor of love could eventually add to the legacy of the centuries-old craft of Armenian winemaking.
About the author.- California native Paula Der Matoian is a freelance writer living in Armenia.