Turkish theologian under fire after 'converting' Armenian boy to Islam on live TV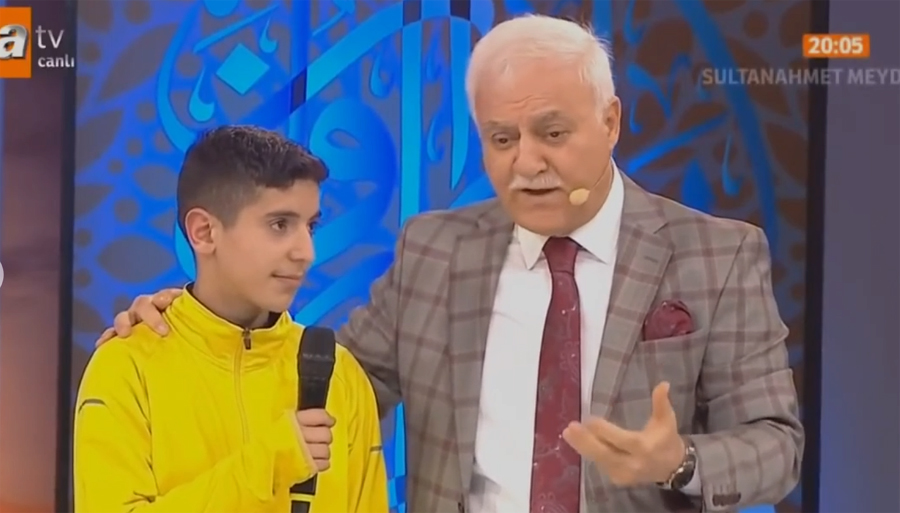 Turkish theologian Nihat Hatiopoğlu, known for his popular television shows during Ramadan, created public outcry after he converted 21 people to Islam during a live broadcast on Sunday, including a 13-year old Armenian boy, left-wing Evrensel newspaper reported.
Hatipoğlu converted the boy, Arthur, to Islam, changing his name as Nihat during his top-rated Ramadan show.
Conversion in Islam occurs through the utterance and belief in the shahada, which states ''There is no god but God. Muhammad is the messenger of God.''
The theologian advised to the Armenian boy to learn the values of Islam.
The theologian who has become a household name in Turkey said after the programme that Arthur's family had consented to the conversion. But, Alina Y., the mother of the Armenian boy, told Armenian web-site lurer.com that she had not given consent.
"My child did not become a Muslim. We are Armenians, Christians. If I knew about it, I would accompany my child, but I did not. I was working," the mother said.
A Syrian friend told Arthur that they would receive presents and offered food if the participated the television show, the mother said.
"He is a child, he made a mistake. He did not become a Muslim," Alina Y. said.
While the Turkey's Human Right Association's committee on racism and discrimination filed a legal complaint against Hatipoğlu, the mother reached out the Turkish-Armenian lawmaker Garo Paylan from the predominantly Kurdish Democratic People's Party (HDP).
Paylan said on Wednesday on Twitter that he talked to Arthur's mother, who told him that she had not given consent for the young boy to take part in the television show. The lawmaker accused Hatipoğlu of abuse and said he would file legal complaints with both the country's television watchdog and the prosecutor's office.