"Turkey: Thirty Days of Shame" Week 2 Summary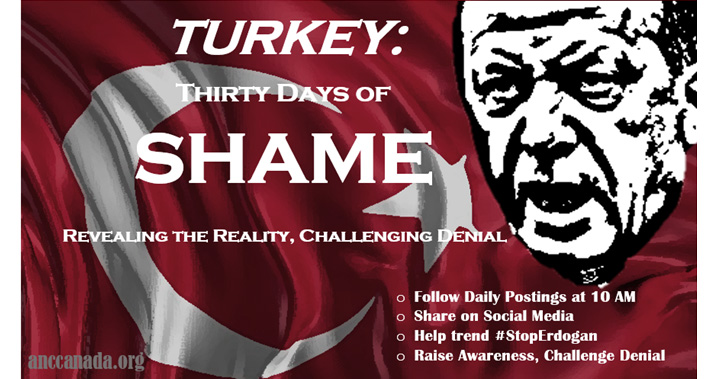 Editor's Note: On April 3, 2017, the Armenian National Committee of Canada (ANCC) launched "Turkey: Thirty Days of Shame", a campaign aimed at informing and educating Canadians about Turkey's flagrant and consistent abuses of human rights, disregard to the principles of democracy and its continuous denial of the Armenian Genocide. Every weekday during the entire month of April, the ANCC will post one article, video, or human rights report highlighting Turkey's continuing disrespect for human rights and its ruling regime's efforts to gloss over its gross violations with slick propaganda, political bullying, and misinformation.
Montreal — The week's theme was Turkey's scandalous attempts of redefining democracy within its borders. Following the failed coup attempt, President Erdogan's consolidation of power has been marked by utter ignorance towards the democratic principles and the norms of international law. While trying to advance a constitutional referendum that aims to completely centralize political power in the office of the president, state-sanctioned arrests and purges on civil society, the judiciary and the academic community have reached unprecedented heights. In December 2016, the internationally renowned Committee to Protect Journalist (CPJ) announced that 2016 was the worst year on record for jailing journalists worldwide and Turkey was leading the list with 81 journalists imprisoned.   
Below is a summary of the articles, video, and human rights reports posted during week 2:
Day 1: Human Rights Watch – Silencing Turkey's Media
Day 2: Turkish Minute – Venice Commission watchdog says Turkey 'on the road to autocracy'
Day 3: Foreign Policy – Turkey Is a Dictatorship Masquerading as a NATO Democracy
Day 4: Committee to Protect Journalists (CPJ) – Turkey's crackdown propels number of journalists in jail worldwide to record high (Article & Video)
Day 5: ROAR Magazine – HDP Arrests: On the road to dictatorship in Turkey
Details of the "Turkey: Thirty Days of Shame" Campaign:
When:  One posting every day at 10:00am EST starting on Monday, April 3, 2017 until Friday, April 28, 2017.
Where: ANCC website "Turkey: Thirty Days of Shame" campaign page —         http://anccanada.org/category/publications/campaign/shame/
              ANCC Facebook page — www.facebook.com/ArmenianNationalCommitteeofCanada
              ANCC Twitter page — www.twitter.com/ancc_cnac
 ***
The ANCC is the largest and the most influential Canadian-Armenian grassroots human rights organization. Working in coordination with a network of offices, chapters, and supporters throughout Canada and affiliated organizations around the world, the ANCC actively advances the concerns of the Canadian-Armenian community on a broad range of issues and works to eliminate abuses of human rights throughout Canada and the world.