Russia extends fuel supply to Armenian plant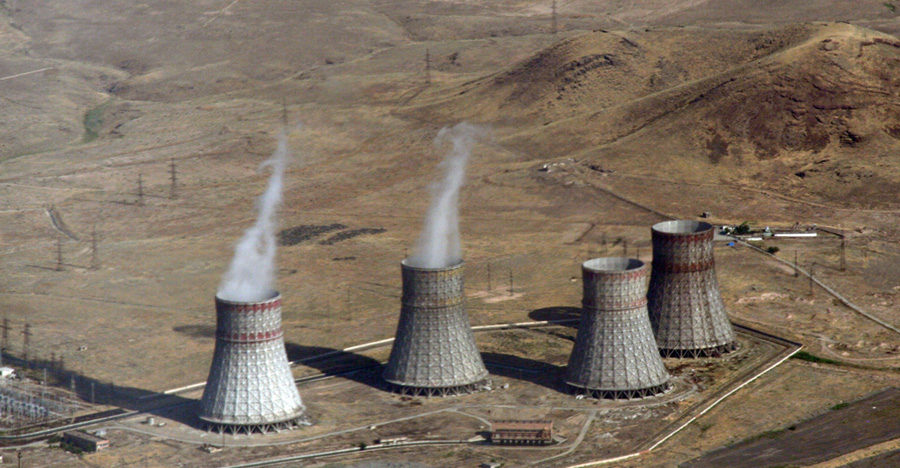 (World Nuclear News) – TVEL and Haykakan Atomayin Electrakayan – Armenian Nuclear Power Plant – have signed contractual documents for supplies of Russian nuclear fuel in 2019-2020. TVEL, the nuclear fuel manufacturer subsidiary of Russian state nuclear corporation Rosatom, said that a stock of fresh nuclear fuel had already been provided to the site of the power plant in Metsamor in compliance with a supplement signed in 2017 to their general contract.
Artur Baghdasaryan of Armenian NPP and Oleg Grigoriyev from TVEL (Image: Rosatom)
The agreement was signed by Artur Baghdasaryan, deputy director general of Armenian NPP., and Oleg Grigoriyev, TVEL's senior vice-president for Commerce and International Business.
In 2011, the Armenian Nuclear Regulatory Authority granted the plant an operating licence extension until 2021, subject to annual safety demonstration since 2016. The plant is preparing to submit an application for a second licence renewal to extend its operating lifetime until 2026.
Grigoriyev said in the company statement today that the latest supplement to the general contract will provide for all tof Armenian NPP's fresh nuclear fuel needs, as well as replenish its existing stock of fuel.
"TVEL traditionally offers its Armenian partners nuclear fuel supplies with favourable conditions. Along with other matters, we take into account the ongoing life-extension works at the only nuclear power unit in the country, as the project currently limits the power generation output of the facility," he said.
The general fuel contract between the two sides is valid for the whole useful life of the unit, including its life extension, TVEL said. The 407.5 MWe VVER-440 reactor is running on vibration-resistant fuel produced by TVEL's fabrication facility Elektrostal Machine-Building Plant.
The Metsamor plant comprises two Russian-built 376 MWe VVER reactors which started operating in 1976 and 1980, respectively. Both units were taken off line in 1988 due to safety concerns regarding seismic vulnerability, although they both continued to operate and had not sustained any damage in a major earthquake in the region earlier that year. Unit 2 was restarted in 1995, and is subject to ongoing safety improvements. Unit 1 is now being decommissioned.