Presentation of Avedis Hadjian's 'Secret Nation: The Hidden Armenians of Turkey'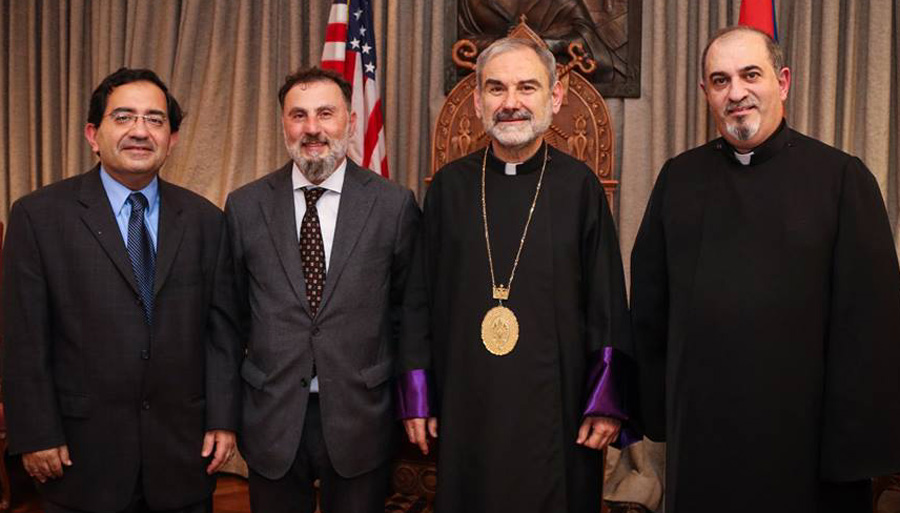 The presentation of Avedis Hadjian's book, "Secret Nation: The Hidden Armenians of Turkey" took place on Wednesday, October 31st at the Armenian Prelacy of the Eastern United States, New York with a full house. The author was introduced by Dr. Vartan Matiossian, ANEC Executive Director, who conducted the event. Mr. Hadjian explained the circumstances that led him over the years to engage in a quest about the "hidden" and Islamicized Armenians in Turkey, which resulted in this massive and absorbing book. His illustrated presentation depicted the human stories and some humorous anecdotes behind them. The interested audience asked various questions, which continued unabated through the book signing session. Bishop Anoushavan Tanielian, Prelate, made closing remarks, congratulating the author for his achievement and bringing his own share of vignettes about the subject.
The genocide of 1915 delivered what seemed to be a near-death blow to Armenian presence in the Anatolian lands. Not all, however, succumbed to the binary fate of death or exile. Some, in fact, have managed to survive over the last hundred years or so by concealing their identity, which in most cases involved converting to Islam and assimilating into Turkish society. In Secret Nation: The Hidden Armenians of Turkey, Armenian-American journalist and author Avedis Hadjian travels to towns and regions that once comprised "historic Armenia", where so many Armenians used to call home. His book is filled with fascinating stories of day-to-day struggle and trials that leave the reader pondering questions about the meaning of Armenian identity and Armenians' relationship with the various ethnic and religious groups of Turkey.
Read also
Interview with Avedis Hadjian, Author of 'Secret Nation: The Hidden Armenians of Turkey'