Los Angeles Armenian Community Rejects Zareh Sinanyan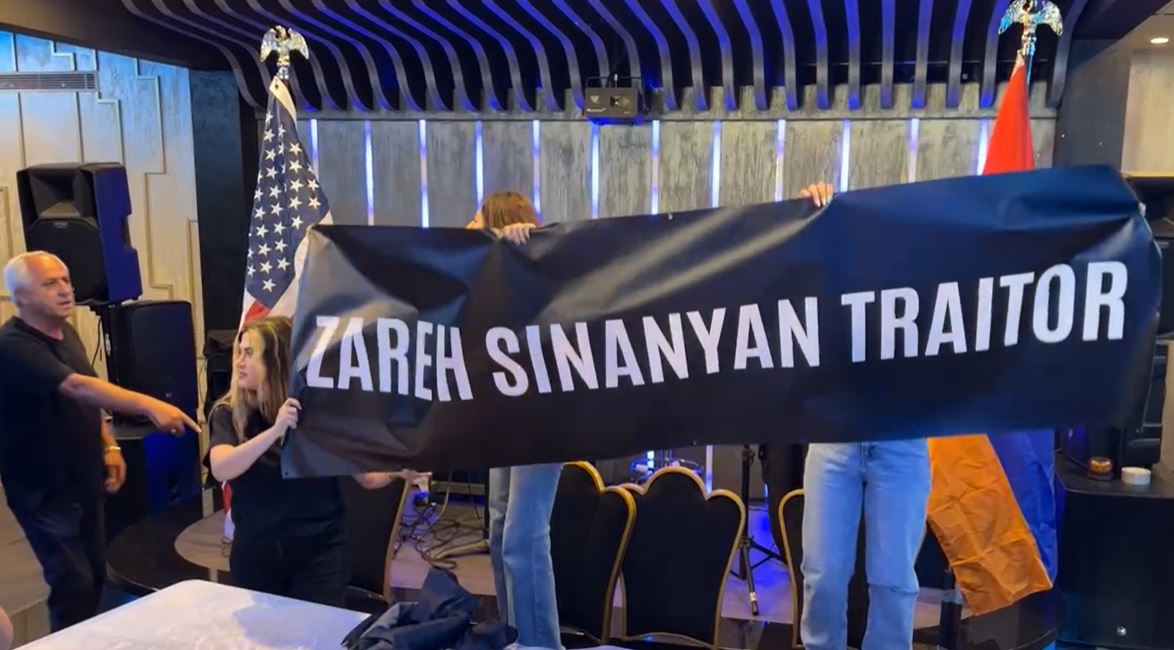 LOS ANGELES, CA – On Tuesday, June 7, Zareh Sinanyan, Armenia's notorious Diaspora Commissioner attempted to gather supporters for a meeting at the "La Reve" restaurant in North Hollywood, California.  The restaurant was filled near its capacity with attendees. However, much to Sinanyan's dismay, the vast majority of attendees were not there to hear or support Sinanyan's rhetoric in defense of the Pashinyan regime, but rather to protest both his presence in Los Angeles and his ongoing role in Pashinyan's treasonous government.
The capacity crowd greeted Sinanyan with emphatic boos, along with chants of "Sinanyan Traitor" and "Nikol Traitor".  Sinanyan was visibly stunned.  He has been visiting the United States and had thus far managed to avert large crowds, opting instead to hold small, controlled meetings.  Tonight, however, Sinanyan was unable to avoid coming face to face with the real Diaspora.
Last month, Sinanyan had outraged the Diaspora by stating that those who are against Pashinyan's treasonous policies regarding Artsakh and his government's pro-Turkish positions are "traitors."  The demonstrators reminded Sinanyan, that the Diaspora will continue to remain vigilant about the future of Armenia and that he and his boss are the real "traitors" for attempting to silence the Diaspora.
The organizers of the event, upon realizing that the crowd was gathered to protest Sinanyan, became visibly hostile and began to hurl insults and threats against the demonstrators.  Sinanyan, who also was visibly irritated, started yelling at the crowd and was rushed out by the organizers.
The owners of the restaurant then notified the crowd that the event was being cancelled.  The large group of protesters exited the venue, but later discovered that Sinanyan had re-entered via the back door and was trying to meet with the remaining dozen or so people, including the organizers, who remained inside.  About one hundred demonstrators continued their protest outside the venue.
An hour into the protest, the Los Angeles Police Department arrived at the scene and inquired about the ongoings.  The police had apparently been called by Sinanyan's organizers.  It was explained to the police that the demonstrators had gathered to protest Sinanyan, whose policies they disagreed with, and the police left shortly thereafter.
The demonstrators concluded their protest by singing Armenian patriotic songs "Zartir Lao" and "Gini Lits", along with the Armenian National Anthem.