Horizon Exclusive Interview: The Honourable Minister Mélanie Joly talks Humanitarian aid to Artsakh & Canada's new post-COVID 19 Economic Response Plan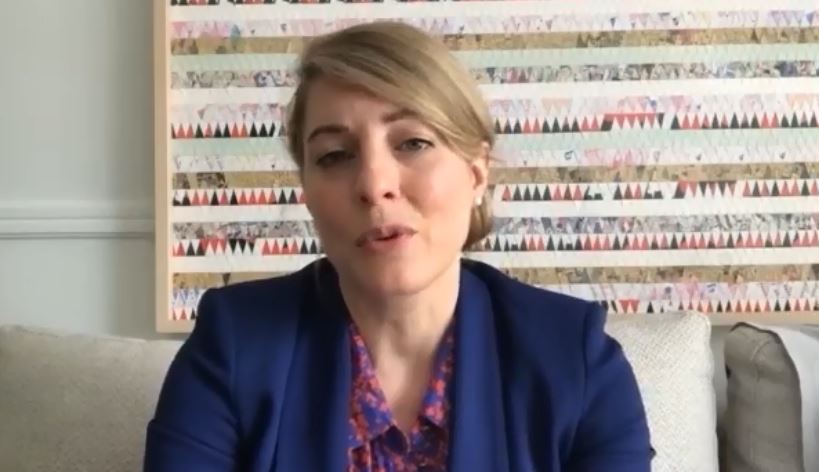 Horizon Exclusive Interview: The Honourable Minister Mélanie Joly talks Humanitarian aid to Artsakh & Canada's new post-COVID 19 Economic Response Plan
By Diana Skaya
Humanitarian aid to Artsakh
November 9, 2020 marked the end of the 44 day Artsakh war and the signature of the ceasefire Agreement between Armenia and Azerbaijan, brokered by Russia.
Over 150 000 local Armenian civilians of Nagorno-Karabakh were forced to deportations and are to this day confronted to significant humanitarian challenges. Thousands of them burned down their houses and villages before fleeing for asylum in Armenia.
In late October 2020, in the middle of the clashes, Canadian Minister of International Development, Karina Gould ,and in May 2020, Global Affairs Canada announced Canada's concern over the effects of the conflict on the local Armenian civilian population.
Asked about what how Canada is specifically helping the devastated population of Nagorno-Karabakh, Minister Joly confirmed that as a human rights leader inside the Organization for Security and Co-operation in Europe (OSCE), the Government of Canada confirmed a total of more than $1 million of humanitarian aid to the International Committee of the Red Cross and to the Armenian Red Cross  to support their work and to address urgent needs that have arisen as a result of the conflict.
"The best thing to have is a dialogue on this issue," stated Joly, "As a traditional Canadian point of view in international relations, we play a role of honest broker. There is more we can do as a country to develop our bilateral ties with Armenia, increase trade, develop more commercial relationships-everything democracy, and continue to fight for multilateralism."
Minister Joly also mentioned Canada's role in supporting democracy in Armenia through the Arnold Chan Initiative, launched by Canadian Prime Minister Justin Trudeau and aimed at developing democratic institutions and strengthening the democratic process in Armenia, as well as protecting the right to education and the empowerment of women and girls, and promoting the sustainable development of communities through environmental education.
L3 Harris-WESCAM cameras
During the last weeks of the Nagorno-Karabakh war, Canadian media outlets were quick to publish irrefutable evidence proving Canadian-made hardware was being used on Turkish advanced drones to kill Armenian civilians in Nagorno-Karabakh.
L3 Harris-WESCAM advanced cameras were not part of the arms export ban imposed by the Government of Canada against Turkey in late 2019. Canada's Foreign Minister Garneau said, in his statement on the cancellation of the arms permit to Turkey, that the
use of Canadian technology "was not consistent with Canadian foreign policy, nor end-use assurances given by Turkey."
Probed about Turkey's response to the cancellation of the export permits, the Minister of Official Languages went on to say that Canada had indeed addressed the situation with Turkey and that "we now have really good mechanisms to make sure that we are not providing export permits that would afterwards be used in conflicts like the one in Nagorno-Karabakh."
 "People died in this conflict. Canada wants to make sure that we appease conflicts in this world. That's what we have done and that's why so many Armenians decided to come and live here. We need to make sure that we don't participate in any forms of conflicts through the  decisions that we are making indirectly that would have impact on civilians. We took the WESCAM inquiry very seriously."
Post-COVID 19 Economic Response Plan
In April 2020, Canada announced a new Economic Response Plan, the 'Regional Relief and Recovery Fund' for businesses and communities that may require additional support to cope with and recover from the pandemic. The Government increased the fund by $500 million in support for small businesses across the country, bringing a total funding of over $2 billion.
Minister Joly affirmed that Canada is doing much better in terms of the job market and a decrease in unemployment, and assured that the Canadian economy is hoping to reopen entirely as of September 2021, when more Canadians would be fully vaccinated.
"We will also be providing interest free loans and grants to the industries that were most affected by the pandemic- the tourism and airline industries, as well as small businesses."