Greater Los Angeles community-wide march for Artsakh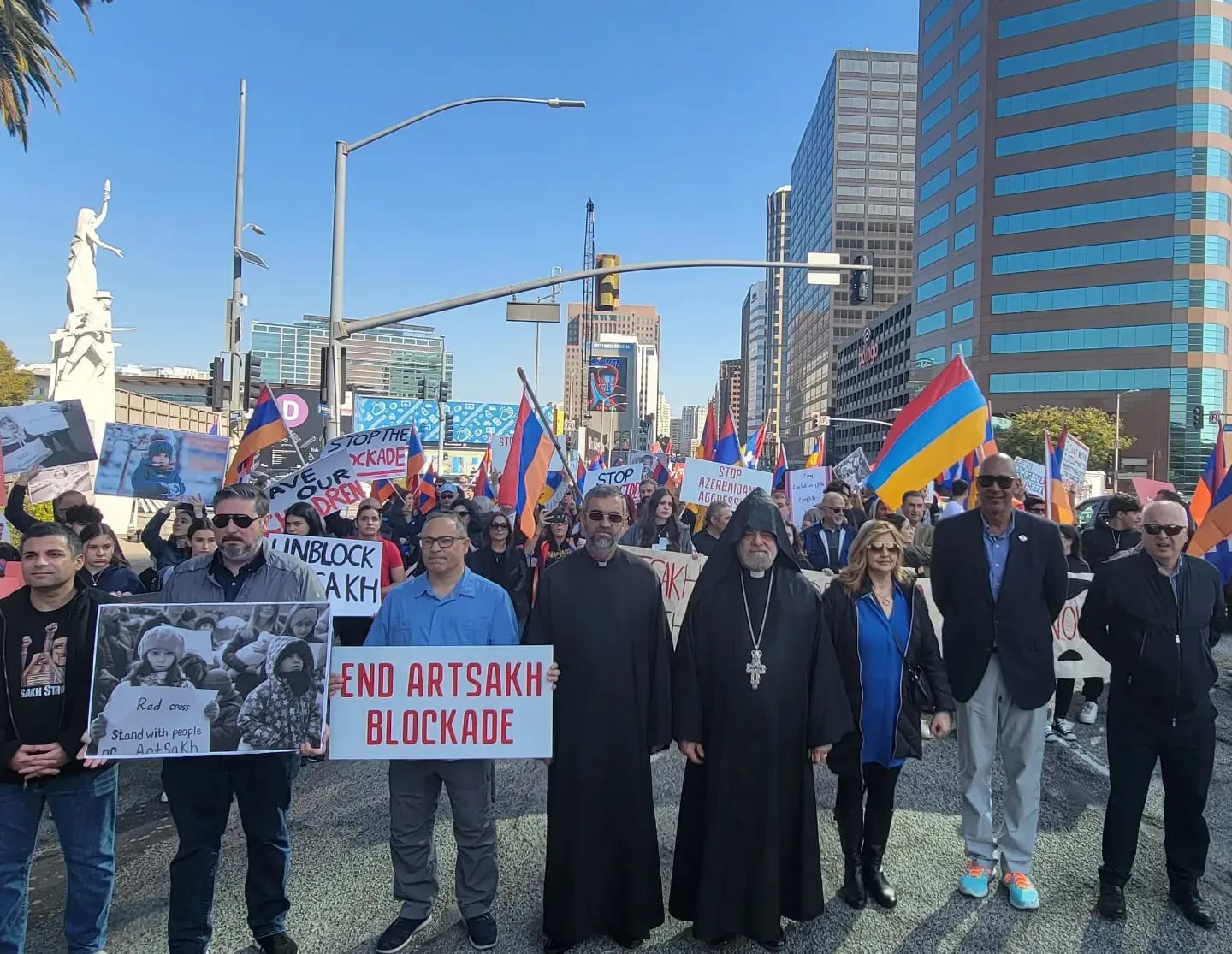 In response to the inhumane blockade of the Berdzor Corridor, more than 300 members of the Armenian American community and their allies of the Greater Los Angeles area marched from the U.S. Federal Building in Los Angeles to the Azerbaijani Consulate and blocked Wilshire Boulevard in doing so. Upon their arrival at the Azerbaijani Consulate, the crowd continued to block Wilshire Boulevard near Sepulveda in its entirety, symbolically blockading access to the Azerbaijani consulate just as Azerbaijan has been blockading the only road connecting Artsakh to the outside world for nearly 50 days.
Since December 12, 2022, Azerbaijan has blockaded 120,000 Armenians in the region of Artsakh from the rest of the world. This has left 30,000 children imprisoned in their own homes without access to food or heat in the middle of a brutal winter.
Following the onslaught Azerbaijan waged against the Armenian people during a worldwide pandemic in 2020, the dictatorial regime is emboldened yet again to ethnically cleanse Armenians from their indigenous homeland. The #ArtsakhBlockade– in line with President Ilham Aliyev's own words– is an attempt to exterminate Armenians from the region in the name of oil profits and a genocidal pan-Turkic agenda.
By marching, the Armenian American community and their allies demand that the U.S. government, especially Los Angeles Mayor Karen Bass and California Governor Gavin Newsom, put pressure on the Biden Administration to take tangible steps to end the Artsakh Blockade. These demands were written and communicated to Mayor Bass, as well as Governor Newsom.
The AYF-WUS is again calling on all communities to take a stand against anti-Armenian violence, persistent genocidal intentions, and unlawful colonization by joining us in our fight for justice. The organization urges all community members to condemn Azerbaijan's latest attack against the indigenous Armenians of Artsakh and demand our own elected officials in the U.S. condemn the repeated ceasefire violations of Azerbaijan and exert all diplomatic efforts to prevent yet another display of Azerbaijani terror and human rights violations from manifesting.