Eleven refugees and at-risk youth receive Aurora Gratitude Scholarships to study at United World Colleges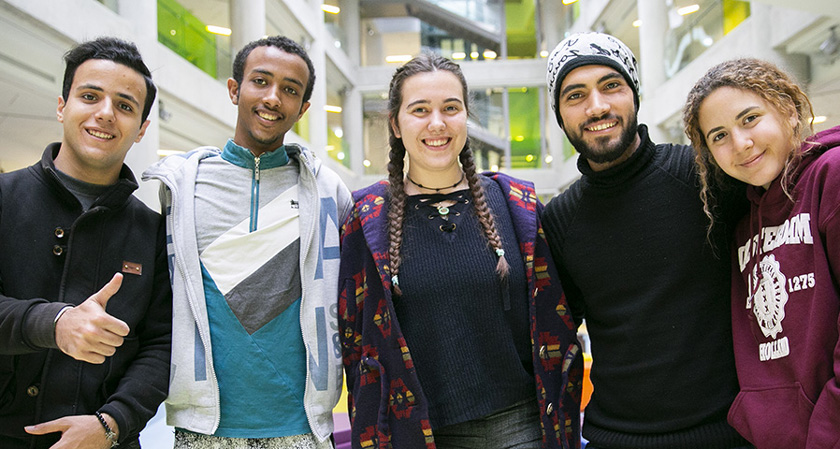 Aurora Humanitarian Initiative puts Gratitude into Action by Offering Scholarships to Children of Conflict
23 October 2018 – YEREVAN – The Aurora Humanitarian Initiative has announced eleven recipients of Aurora Gratitude Scholarships. Young people from seven Middle Eastern countries began their studies at United World Colleges (UWC) around the world in September 2018. The scholarships allow students to live safely, with support and receive a strong education. All recipients are either refugees, living with the loss of one or both parents, or come from marginalized communities.
The 2018 scholars come from Syria, Lebanon, Palestine, Israel, Jordan, Egypt and Iraq, selected by their respective UWC National Committees. The Gratitude Scholarships are concrete expressions of the appreciation of Armenians for the people of the Middle East who offered shelter and food to those displaced by the Armenian Genocide a century ago. The scholars will be based at United World Colleges around the world including Armenia, Norway, Italy, Germany and the Netherlands.
"We are proud to welcome this year's Gratitude Scholars. The Aurora Gratitude Scholarships make it possible for students to achieve their dreams. This is especially important for those young people whose lives have been seriously impacted by conflict and displacement. We strongly believe in the power of education to sow understanding, unite people, create peace and positively impact our world to create a more sustainable future. The past, current and future students of the UWC schools are part of a movement, they have the opportunity to learn and help each other; it's the cycle of giving," said Veronika Zonabend, Chair of the Board of Governors at UWC Dilijan.
"We believe this scholarship is an opportunity to foster inter-cultural exchange and understanding of humanitarian values among young people, bringing them together to learn from and with each other to create a future generation who will exemplify the values of gratitude, generosity and humanity," she added.
The Gratitude Scholarship program, valued at over $7 million, also includes the Amal Clooney Scholarship, the Charles Aznavour Scholarship and the Lamya Haji Bashar Scholarship. Over the duration of the program, 100 promising students and potential future leaders from countries affected by unfortunate circumstances such as conflict or poverty will benefit from the opportunity to study at one of the United World Colleges international schools and colleges. To date, 62 students have been the recipients of Aurora Gratitude and other Aurora scholarships, affording them the opportunity to study within the UWC and American University of Armenia network to gain a meaningful education and internationally recognised qualification. The students are selected based on their academic and extra-curricular engagement and their future potential as young leaders in their communities.
Alice Al-Mohammad, one of the recipients of this year's Aurora Gratitude Scholarships, said: "I am truly grateful for the opportunity to receive an Aurora Gratitude Scholarship and super excited to start the academic year at UWC with my fellow scholars. This opportunity means a lot to me because I have the chance to experience a better educational system and to meet and learn with students from diverse backgrounds. Before I was offered this scholarship, I have always felt passionate about the freedom to express my ideas but I did not have the confidence to do this, however, this scholarship is an opportunity to pursue my passion. I'd like to thank the Aurora Humanitarian Initiative for creating a platform based on humanitarian values."
About the Aurora Humanitarian Initiative 
The Aurora Humanitarian Initiative is committed to building a broad, global humanitarian movement. The initiative is rooted in inspiring stories of courage and survival that emerged during the Armenian Genocide, when 1.5 million Armenians perished. Those fortunate few who survived were saved also by the courageous and heroic acts of intervening institutions and individuals. A century later, the Aurora Humanitarian Initiative seeks to express gratitude, share remarkable stories of survivors and their saviours, and celebrate the strength of the human spirit.
The Aurora Humanitarian Initiative instigates, includes and supports projects designed to raise public awareness and address some of the world's most pressing humanitarian issues. These projects include the Aurora Prize for Awakening Humanity, the Aurora Dialogues, the Aurora Humanitarian Index, the Aurora Gratitude Projects and the 100 LIVES initiative. The Aurora Humanitarian Initiative is an enterprise of the IDeA Foundation (Initiatives for Development of Armenia).
The Aurora Gratitude Projects are humanitarian and educational initiatives which help children, refugees and other vulnerable citizens around the world. Through these projects, the descendants of the survivors of the Armenian Genocide express thanks to the memory of those who helped save the victims of genocide, by providing educational initiatives and scholarships, grants to humanitarian projects and promoting public awareness of humanitarian efforts. 100 academic scholarships are provided to at-risk youth from the Middle East who have been affected by conflict, displacement, and poverty. The scholarship program runs between 2015-2023 and will offer recipients an internationally recognized education within the United World College (UWC) network of schools, including in Armenia-based UWC Dilijan. It has individual scholarships named after Lamya Haji Bashar that is given to Yazidi students and after Amal Clooney that is given to a female student from Lebanon who demonstrates strong interest in human rights. In addition, in cooperation with Scholae Mundi Armenia, scholarships are granted to students from Syria, Iraq, Lebanon, Jordan and Egypt to study at the American University of Armenia.
For more information: www.auroraprize.com 
About the UWC (United World Colleges) Movement
UWC's mission is to make education a force to unite peoples, nations and cultures for peace and a sustainable future. Founded in 1962, UWC today comprises 17 international schools and colleges on four continents and national committees in more than 150 countries in charge of selecting a diverse student body, and a series of short educational programs.
UWC Dilijan is the first international boarding school of the UWC education model in Eastern Europe and CIS. The school opened in September 2014 in the Armenian town of Dilijan and currently has 218 students enrolled from over 70 countries. Its admissions policy is merit based and needs blind and aims to make enrollment available to anyone, regardless of socio-economic background, on the basis of merit. Forty percent of students receive full or nearly full scholarships and fifty percent of students receive different level grants. In May 2016, the first generation of UWC Dilijan alumni graduated; many of them are continuing their education at leading universities worldwide.
For more information: www.uwc.org