China stands ready to deepen cooperation with Armenia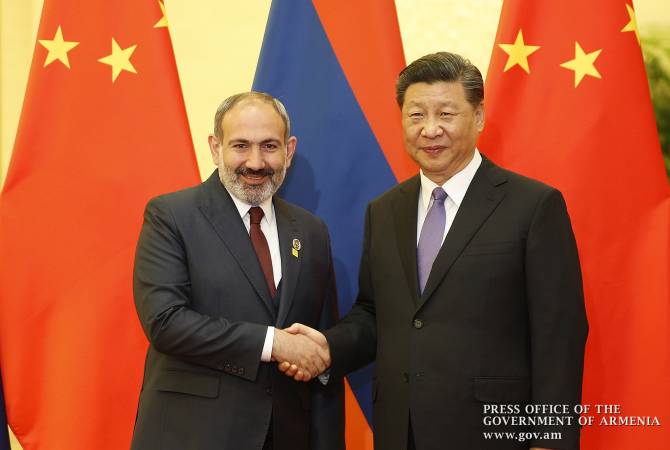 (Armradio) – People's Republic of China attaches importance to the continuous development of relations with Armenia, President Xi Jinping said at a meeting with visiting Armenian Prime Minister Nikol Pashinyan.
The President referred to the firm cultural and historic ties between the two countries, noting that the "Silk Way" played a role here.
China stands ready to push forward bilateral cooperation and achieve more tangible results in various fields including trade and investment, mining, metal smelting, renewable energy as well as infrastructure construction, said Xi.
"We are well familiar with the Armenian people, we know names like Aram Khachaturian, Artem Mikoyan, Hovhannes Tumanyan. We are tied by common goals of cooperation between civilizations. We are well informed about the significant events in Armenian history, and we are convinced that the tragic events that befell the Armenian nation should be excluded in the future," the President added.
He stressed that China is willing to participate in the construction of the North-South highway and other infrastructure projects. He also pledged support to projects that will contribute to Armenia's development and well-being of its people.
Prime Minister Nikol Pashnyan noted, in turn, that relations with China are among Armenian foreign policy priorities.
The Prime Minister briefed the Chinese President on the recent developments in Armenia and noted that "Armenia is now a dynamically developing country with political stability and predictability."
The interlocutors pointed to agriculture, transport, energy and information technologies, infrastructure and education as promising fields of cooperation.
The parties also referred to the Karabakh conflict, noting that the issue should be solved through dialogue.