Candlelight vigil held in Toronto in memory of soldiers killed in 2020 Artsakh War
(Torontohye) – The Armenian Youth Federation (AYF Canada) Toronto Simon Zavarian chapter held a candlelight vigil at the Armenian Community Centre's courtyard on Nov. 9, 2022, in memory of the fallen heroes of the 2020 Artsakh War.
Hundreds of members of the Armenian community of Toronto, as well as Members of Parliament Jean Yip (Scarborough—Agincourt) and Michael Coteau (Don Valley East), Member of Provincial Parliament Vincent Ke (Don Valley North), Markham Deputy Mayor Michael Chan, and Toronto City Councillors Shelley Carroll (Ward 17) and Nick Mantas (Ward 22), attended the solemn gathering. Nov. 9 marks the second anniversary of the precarious trilateral statement that ended fighting during the war.
AYF members Mary Chatalian and Armen Artin addressed the crowd on behalf of the organizers. "The Truth and Reconciliation Commission of Canada issued its final report in 2015 and created a historical record of the residential school system in Canada. For me, 2015 marked a turning point; it was also the centennial year of the beginning of the Armenian Genocide… I felt like, as a society, we had turned the page. I felt that ethnic-based violence has no place in our world. Unfortunately, I do not have that same confidence today," Chatalian said in the opening of her powerful remarks in English.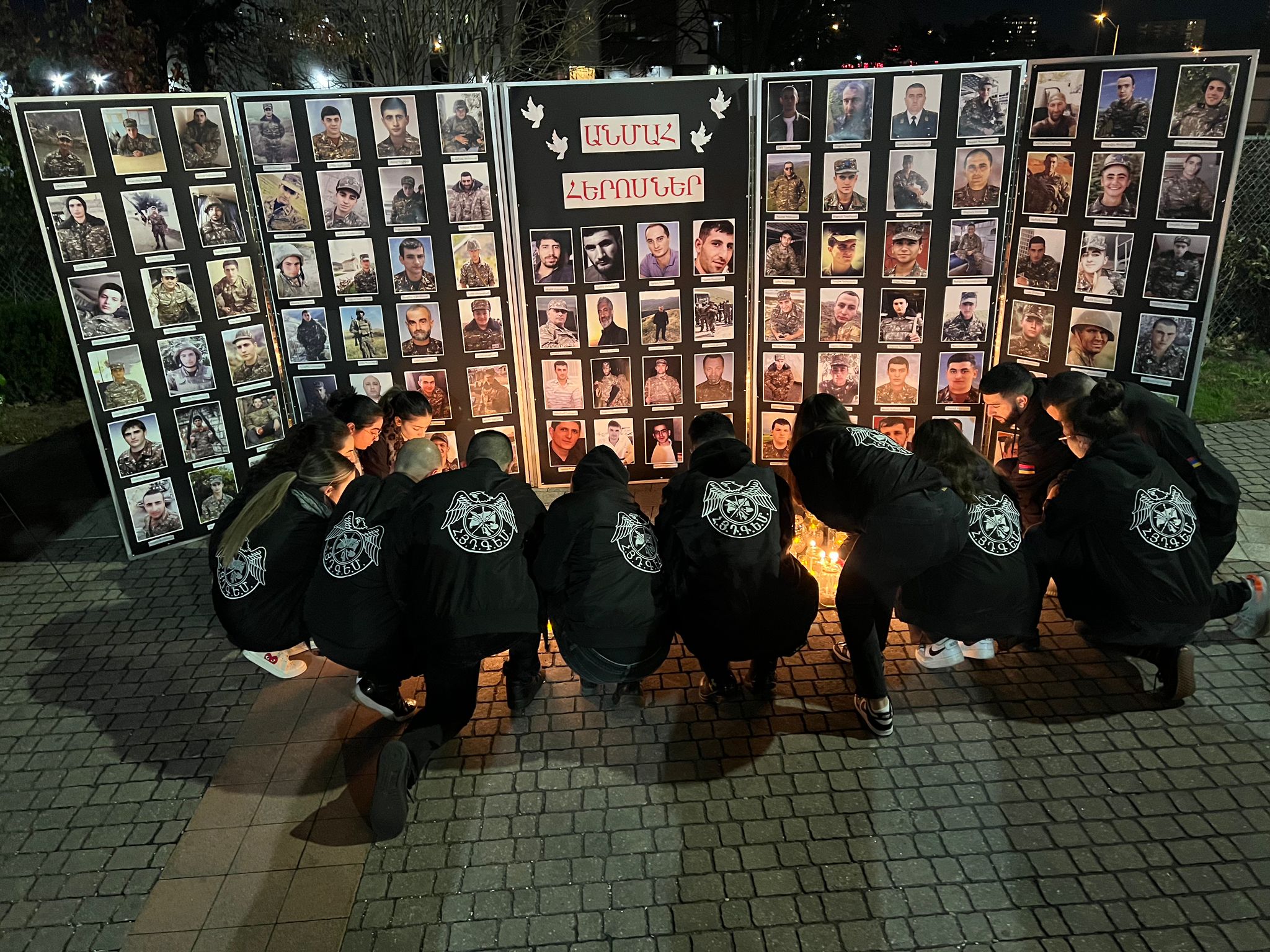 "We are gathered here to honour the memory of those who died in the 2020 Artsakh War. They died for freedom, the same way soldiers from Canada and other countries gave their lives in the two World Wars. Two days from now, on Remembrance Day, we will mark the victory of freedom over tyranny, of self-determination over empires; lest we forget the high cost of that freedom. But, as was the case in 1920, so it was in 2020, and it still is today: Not all people are granted the same rights, and high-minded principles are only applied on double standards," Chatalian remarked.
Artin then addressed the crowd in Armenian, calling for unity and justice for the fallen soldiers in Artsakh. "Tonight's candlelight vigil is not a mourning ceremony but a celebration of the renewal of our covenant and our collective will to uphold our national ideals," Artin said.
Community member and Torontohye contributor Lorie Berberian then recited ARS Armenian Private School principal Raffi Sarkissian's poem "Tsasum" ("Wrath"), dedicated to the martyrs of the 2020 Artsakh War. Catherine Kandaharian then performed a moving rendition of Komitas' "Groong" ("Crane") on the violin. Archpriest Rev. Fr. Datev Mikayelian of the St. Mary Armenian Apostolic Church of Toronto concluded the event with his address and prayer in memory of the heroes of Artsakh.