Breaking the Bias on International Women's Day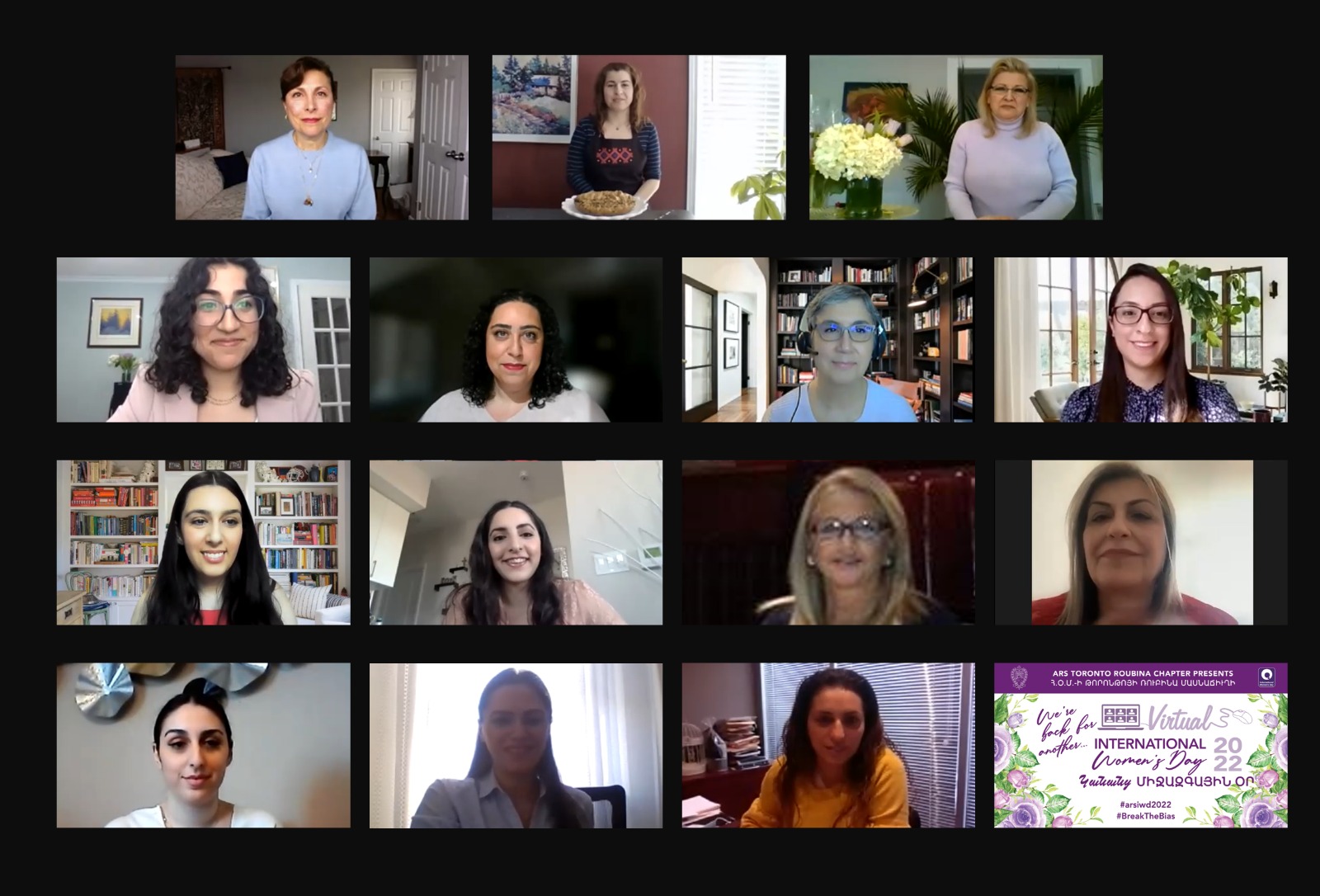 Every year, on March 8th, women around the world come together to join a movement advocating for gender equality and a world free of bias, stereotypes and discrimination.
On March 6th, the Armenian Relief Society (ARS) Toronto Roubina Chapter organized its annual International Women's Day (IWD) event virtually for the second time, featuring a diverse set of guest speakers who shared their experiences, knowledge and insights with our female audience.
This year's IWD theme was "Break the Bias", which urged everyone to break all and any bias towards women in their communities, workplaces, schools and beyond. Men and women worldwide were encouraged to show their commitment to saying no to inequality, and rejecting discrimination.
The ARS Roubina Chapter IWD event started with host, Talar Nersesian, presenting a brief history of ARS and IWD before introducing this year's highly anticipated keynote speaker, Captain Lena Hartzell, Dental Corps for the United States Navy.
Captain Hartzell took the audience on a journey throughout her career, shedding light on some of the highlights and challenges she faced as a woman in the Navy. She shared stories about her deployment, the importance of surrounding yourself with a supportive group of people, and ended her keynote speech with practical advice women can use to find success throughout their careers and be the best version of themselves.
Following Captain Hartzell's keynote speech, nutritionist and author of The Vegan Armenian Kitchen Cookbook, Lena Tashjian showed us how to make a delicious olive salad and sweet Armenian bread, both recipes can be found in her cookbook, stressing the importance of preparing food with love, and sharing it with loved ones. Her enthusiasm and passion for cooking was felt throughout the audience.
Lastly, we welcomed florist and owner of Mary's Flower Shoppe, Lena Nouri, who showed the audience how to put together a spring floral arrangement with tulips and hydrangeas, sharing her tips on how to keep flowers fresh and maximize their longevity.
After hearing from all three presenters, the event wrapped up with a Q&A panel discussion, where Captain Hartzell, Lena Tashjian and Lena Nouri shared their advice for women on overcoming barriers and pursuing senior leadership roles or entrepreneurship opportunities.
Although the event was virtual, it was viewed over a thousand times online and received a lot of positive feedback.
ARS Toronto Roubina Chapter looks forward to next year's International Women's Day which will take place on March 5, 2023, where we can continue to celebrate the incredible women within our communities.