ANCC Welcomes Ambassador Dion's Recommendation for a Canadian Embassy in Armenia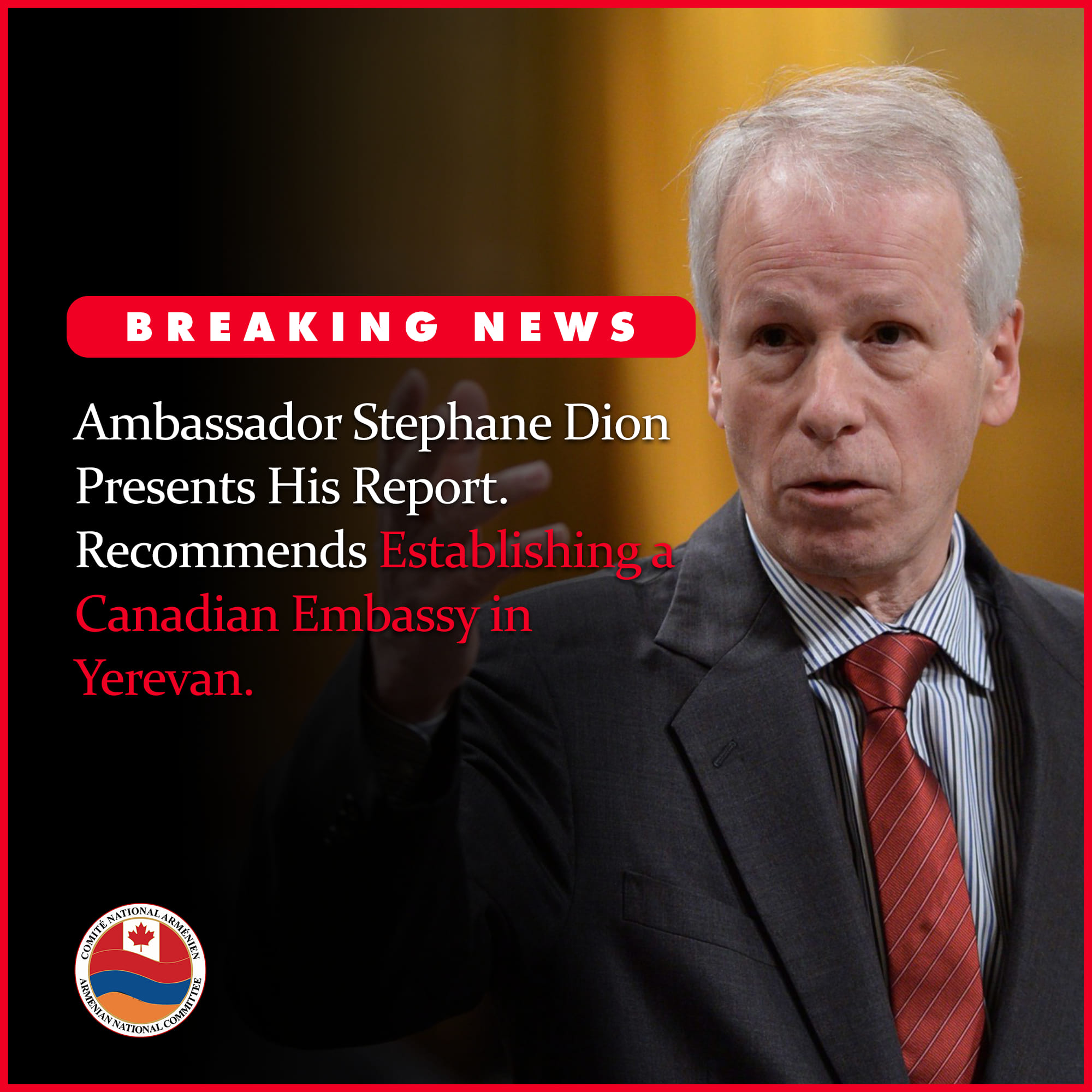 OTTAWA – June 3, 2022 – The Armenian National Committee of Canada (ANCC) welcomes Ambassador Stéphane Dion's recommendation for the establishment of a Canadian Embassy in Armenia, as a part of his larger report – submitted to the Minister of Foreign Affairs – on how Canada can better support Armenian democracy.
On June 25, 2021, Ambassador Stéphane Dion was appointed as Canada's Special Envoy to Support Armenian Democracy. Following extensive consultations in Canada and abroad, on March 2, 2022, he concluded his official trip to Armenia, showcasing the potential for stronger and more robust bilateral relations between Canada and Armenia.
"Ambassador Dion's recommendations and his timely proposal for the establishment of a Canadian Embassy in Armenia is a true testament to the ever-growing bilateral ties between Canada and Armenia," said Hrag Tarakdjian, Co-President of the ANCC.
Since Armenia regained its independence in 1991, the ANCC and the entire Armenian-Canadian community have tirelessly advocated for deeper relations between Ottawa and Yerevan and have consistently called for the establishment of a Canadian Embassy in Armenia.
Following Ambassador Dion's appointment as Special Envoy, the ANCC had expressed hope that his appointment would yield tangible results and help tackle the many issues that have long been advocated for by the ANCC.
"We are convinced that an embassy is absolutely crucial for Canada to be able to play a more substantial role in Armenia and that is why we consider this a milestone for our community and a significant advancement on one of our most important and long-standing policy priorities" added Tarakdjian.
At such critical times, when Armenia is facing unprecedented challenges – caused by Azerbaijan's Turkish-backed aggression in Artsakh – increased engagement from Canada can play a pivotal role in strengthening Armenia, addressing post-war challenges and ensuring fairness and long-term stability for Armenians.
"As we welcome this unprecedented report and its many important recommendations, we realize that a lot of work lies ahead to ensure that the Government of Canada follows through with these recommendations and finally establishes a Canadian Embassy in Yerevan" said Shahen Mirakian, Co-President of the ANCC
In March 2021 – a few months before Ambassador Dion's appointment as Special Envoy – Prime Minister Justin Trudeau proclaimed in the House of Commons that "we know the challenges they [Armenia] are facing as a country, and we will always support them, because Armenia is a country that shares our values. We have deep ties with Armenia."
The Prime Minister's comments were followed by the announcement of Ambassador Dion's mission in Armenia, the Liberal Party's 2021 electoral promise to increase support for fragile democracies and expand diplomatic presence in key strategic areas, and the Government's 2022 Budget, where a commitment was made to examine the opportunities for increased diplomatic capacity in Eastern Europe.
"With this kind of progress and immense support from Canadians and their elected officials, we consider this the opportune moment for the Government to act on this recommendation not only for the benefit of Armenia, but also for the benefit of Canada and its interests in the South Caucasus," added Mirakian.
The ANCC expresses its gratitude to Ambassador Stéphane Dion for his extensive work and cooperation throughout his mission and remains committed to working with the Government of Canada to ensure that a Canadian Embassy in Armenia becomes a reality.
*
The ANCC is the largest and the most influential Armenian-Canadian grassroots human rights organization. Working in coordination with a network of offices, chapters, and supporters throughout Canada and affiliated organizations around the world, the ANCC actively advances the concerns of the Armenian-Canadian community on a broad range of issues and works to eliminate abuses of human rights throughout Canada and the world. 
Contact: Sevag Belian – (613) 235-2622 | National.Office@anccanada.org