An American Researcher of Ancient Armenian Manuscripts – Interview with Erin Pinon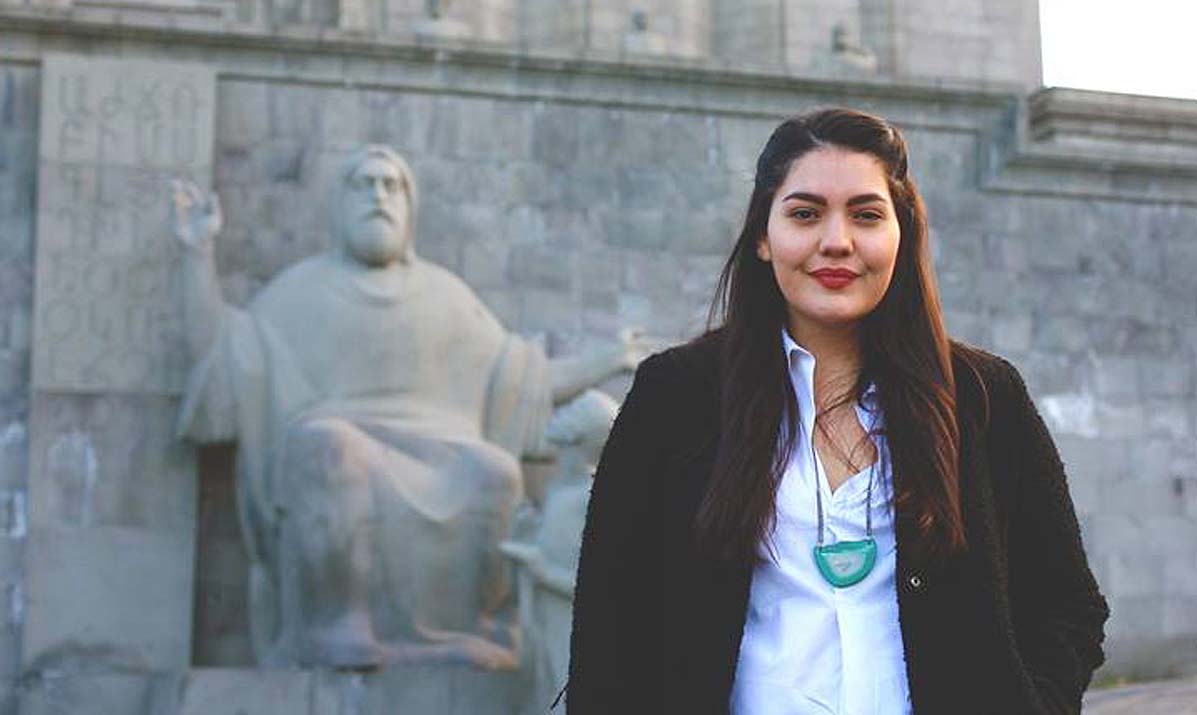 By Sosy Mishoyan Dabaghian
Horizon Weekly
– Please introduce yourself, your background education, previous work experience.
My name is Erin Pinon, and I am living in Yerevan for the 2016-2017 academic year as a U.S. Fulbright Student Researcher. I am a student of art history and book history, specializing in Medieval and Early Modern Armenian works on paper and parchment. I studied at Tufts University under Dr. Christina Maranci, then Southern Methodist University under Dr. Pamela Patton and Dr. Lisa Pon. I have worked at several museums as a research assistant, including the Dallas Museum of Art and the Armenian  Library and Museum of America in Watertown, Massachusetts. In Yerevan I am a visiting professor at American University of Armenia, teaching a course on Armenian Visual Culture and I am conducting research at the Mesrop Mashtots Institute of Ancient Manuscripts, better known as the Matenadaran. After my year in Armenia, I will begin my doctoral work at Princeton University in the Department of Art and Archeology.
– How did you get interested in Armenian manuscripts and decided to come here to work with Madenataran Museum?
I was first introduced to Armenian art and architecture as an undergraduate at Tufts University under Dr. Christina Maranci, the Arthur H. Dadian and Ara Oztemel Professor of Armenian Art and Architecture. At the time, Tufts was, and still is one of the very few universities in the United States that offers both introductory courses and specialty seminars not only on Armenian history, but also on Armenian art history. When the opportunity arose to take such a special course in my major, I enrolled, not necessarily realizing that my field of interest would forever change. It was there, in the suburbs of Boston, that I fell in love with Armenian art and culture. Without hesitation I entered the Southern Methodist University's graduate program in Art History in 2013, where I was welcomed and encouraged to continue my personal research on Armenian manuscripts, monuments, monasteries and more. During my Masters, I was advised to learn Armenian in order to read original source material, translate texts on my own and to be taken seriously as an emerging scholar in such a specialized field. I started slowly, learning the intricacies of a language I had never heard before.
During the summer of 2015, I had the opportunity to present a paper at the 12th Meeting of the International Association of Genocide Scholars in Yerevan, and made my first visit to Armenia. While here, I was fortunate enough to research at the Matenadaran and for the first time see, and touch books that I had studied for so long. This short trip lit the fire under me to return for a longer time, to learn the language and find a larger project in the field of Armenian art. I was awarded a U.S. Fulbright Student Research Grant for the 2016-2017 academic year and moved to Yerevan in late-August with the primary goal of cultivating a dissertation project based on my research at the Matenadaran and to gain teaching experience as a visiting professor at the American University of Armenia.
– You have probably studied with other manuscripts before, how would you describe the unique features of Armenian manuscripts?
Once someone sees an Armenian miniature, it is hard to forget. What I find most unique about Armenian illuminated manuscripts is that they are incredibly diverse in style because the Armenians were one of the longest practitioners of manuscript copying and illumination. Late into the 19th century, Armenians were still hand-copying and illuminating manuscripts, despite the widespread global use of the printing press. The locally harvested minerals and pigments result in truly brilliant illuminations that are regionally unique and original. Once your eyes become acclimated to the original faces and the phases of illustration, it is easy and, at least for me, very fun to be able to spot an Armenian illumination.
– When studying our manuscripts, can you interpret them in a way where you also learn something about the characteristic of the Armenian nation, say through patterns, colors, images… etc.?
I am currently interested in manuscripts illustrated in the Early Modern Period in the Vaspurakan/Van region. This region, of course is not in present-day Republic of Armenia and has for a very long time been a prized area in Anatolia due to its strategic location. I find that during my period of interest and beyond, despite countless waves of invasions and changes of power in this area, there is a cultural resilience and renaissance. I like to say that while there was no Armenia then, and for a very long time, there were Armenians. This state of statelessness affected the types of manuscripts being illustrated. The choice of subject matter for many of these manuscripts is historical—texts written during the Golden Age of Armenian literature, in the 5th century when the alphabet had just been invented by Mashtots. Why these texts are copied and illustrated almost a thousand years after the events and legends they describe shows a conscious objective by Armenians at the time to preserve their history. I love that text and book making are such strong facets of Armenian identity, and that of course, in the Armenian literary and artistic experience, the book, is the primary receptacle for visual arts.
"Erin Piñon is living in Yerevan during the 2016-2017 academic year on a U.S. Fulbright Student Research Grant. The views and opinions expressed here are her own and not those of the U.S. Government."