5000 Canadians demand the Governement of Canada to recognize the independence of the Republic of Artsakh in Ottawa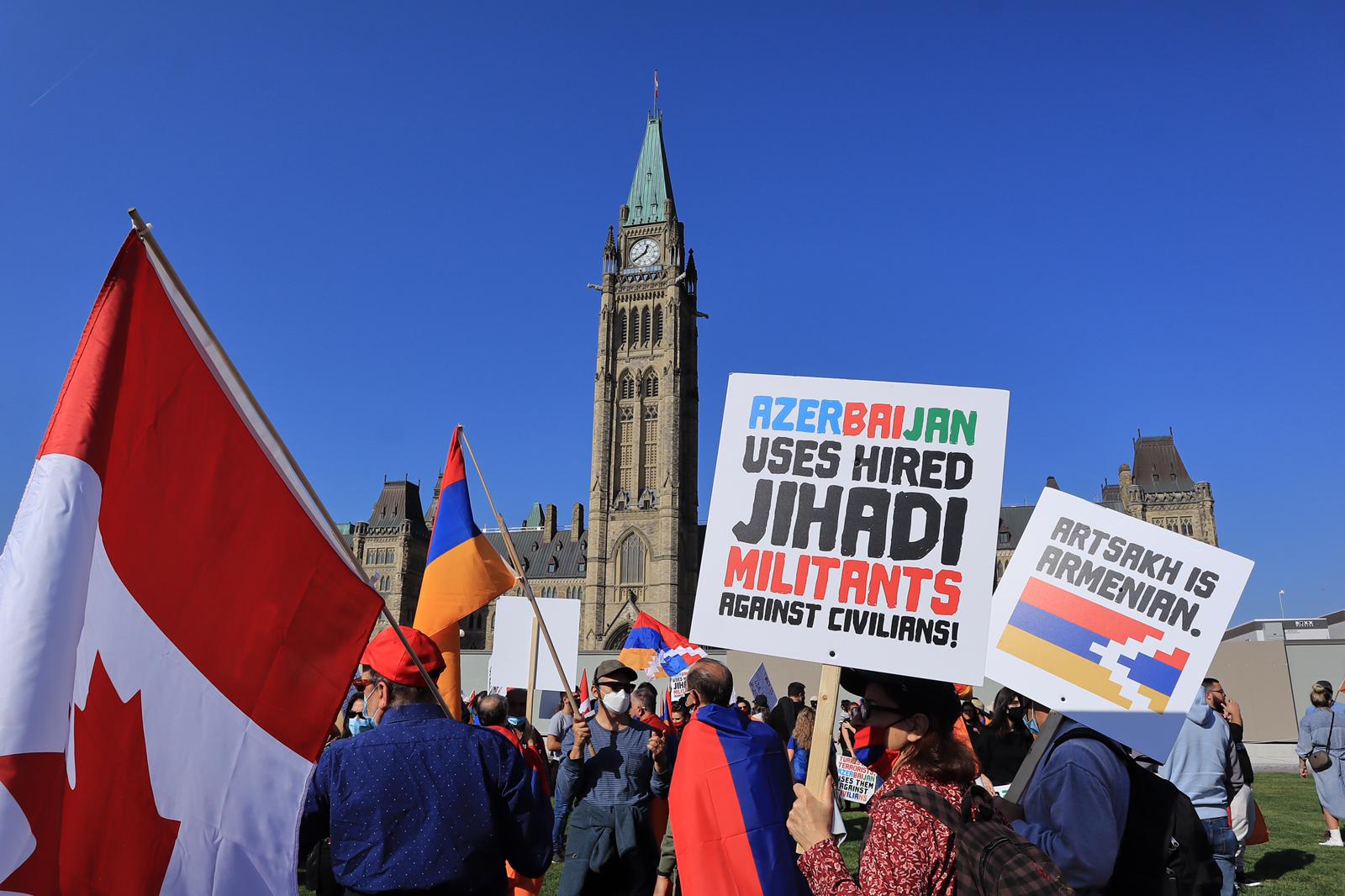 24.10.2020 | Ottawa
Aram Shoujounian, Correspondent for Horizon Weekly
Yesterday, around 5'000 Canadians participated in a public demonstration in front the Canadian Parliament to urge the Canadian government to condemn Turkish, Azerbaijani and terrorist invasion on Armenia and on Artsakh, and to recognize the right of self-determination of the people of the Republic of Artsakh.
Members of Parliament from across the country joined the protest: members from the Bloc Québécois (Alexis Brunelle-Duceppe), the NDP (Alexandre Boulerice) and the Liberal Party of Canada (Peter Fragiskatos) gave their respective speeches to the Canadian public. The MPs asked the Government to act now in order to stop the slaughter of Armenian civilians in Artsakh and Armenia. The Conservative Party Canada also voiced their support to the Armenian community of Canada in their public statement.
Member of Parliament for Cambridge (Ontario), Brian May, issued a statement on behalf of the Canada-Armenia Parliamentary Friendship Group and condemned the Azerbaijani and Turkish aggression.
Then, the Executive Director of the Armenian National Committee of Canada (ANCC), Sevag Belian, underlined the importance to continue their work.
"Our activism has been nonstop and has gained us many achievements, but we cannot stop. We must charge forward and do everything we can to protect the sovereignty and dignity of both of our Republics." – Sevag Belian, Executive Director of ANCC
Belian reiterated the demands of the Armenian-Canadian community and he is confident the Government will take the right actions: "The Armenian-Canadian community is appreciative of everything the Canadian Government has done so far, but we need to do a lot more. Prime Minister Trudeau and the Government have taken a number of decisive steps to help Armenia and Artsakh, but a lot more needs to be done. We need more action."
"No more exemptions of arms sales to Turkey and Azerbaijan. Period. The Canadian Government cannot allow Erdogan and Aliyev to find loopholes and use their tricks to abuse the Canadian system. Canada is bigger than that and that is what we expect." – Belian from the ANCC
Later in the day, the 5'000 demonstrators, along with the representatives of all the Armenian churches and prelacies of Canada, marched from the Parliament building to the United Nations Association of Canada and continued the calls for the recognition of the independence of Artsakh on the main streets of the capital city.