The Hon. Stéphane Dion appointed as Canada's special envoy to Armenia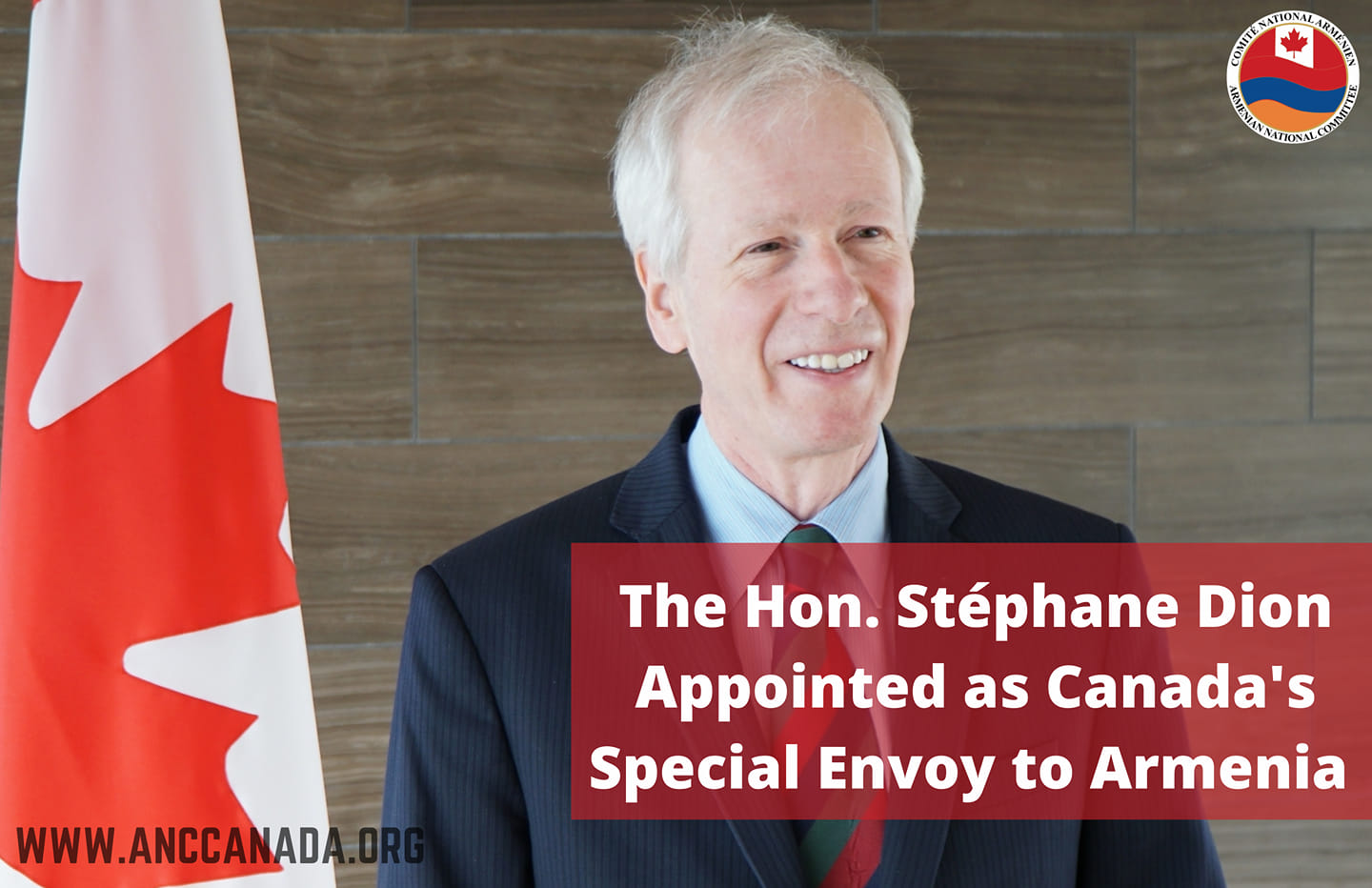 Today, Canada's Minister of Foreign Affairs, The Hon. Marc Garneau announced the appointment of the Hon. Stéphane Dion as Canada's special envoy to Armenia.
In the statement released on Friday, Minister Garneau said "Building on the joint work of recent years and long-standing people-to-people ties between our countries, Canada is committed to cooperating with Armenia to further its democratic progress, which is of critical importance not only for Armenian society but for the region."
According to the statement, Mr. Dion's mandate will "examine options as to how Canada can encourage the ongoing efforts of Armenian civil society, strengthen democratic institutions, grow Armenia's engagement with multilateral institutions, and promote inclusive economic growth."
The Armenian National Committee of Canada (ANCC) welcomed Mr. Dion's appointment, considering it a constructive step towards strengthening the already robust bilateral relations between Canada and Armenia.
"At such crucial times, when Armenia is facing unprecedented challenges – caused by Azerbaijan's Turkish-backed aggression in Artsakh – increased engagement from Canada can play a pivotal role in strengthening Armenia, addressing post-war challenges and contributing to a fair and just resolution to the conflict in Artsakh that respects the indigenous Armenian population's right to self-determination and desire for independence," read a part of the statement released by the ANCC.
"While bilateral relations between Canada and Armenia have been marked by significant advancements in recent years, many issues remain unaddressed. Canada remains the only G7 country that does not have a permanent embassy in Armenia, thus, significantly limiting Ottawa's ability to widen the scope of its bilateral agenda with Yerevan" read the ANCC statement.
 As a result of the ANCC's tireless advocacy for deeper and stronger Canada-Armenia relations, we are hopeful that Mr. Dion's appointment will yield tangible results and help tackle the many issues that have long been advocated by the ANCC.
A long-time friend and advocate for the Armenian-Canadian community, The Honourable Stéphane Dion formerly served as the Member of Parliament for the riding of Saint-Laurent from 1996 to 2017. Throughout his long political career, he also served as the leader of the Liberal Party of Canada and assumed various ministerial positions, most recently as Minister of Foreign Affairs from November 2015 to January 2017. Since his departure from Parliament, Mr. Dion has served as Canada's Ambassador to Germany and as Special Envoy to the European Union.
In 2014, accompanied by members of the Armenian National Committee of Canada, Mr. Dion visited Armenia and Artsakh, where he engaged in a fact-finding mission and was acquainted with the situation on the ground.
Full statement here: https://www.canada.ca/en/global-affairs/news/2021/06/minister-garneau-announces-special-envoy-dion-mission-to-support-armenian-democracy.html