Statement by former Ontario MPP David Warner on the Occasion of the 105th Anniversary of the Armenian Genocide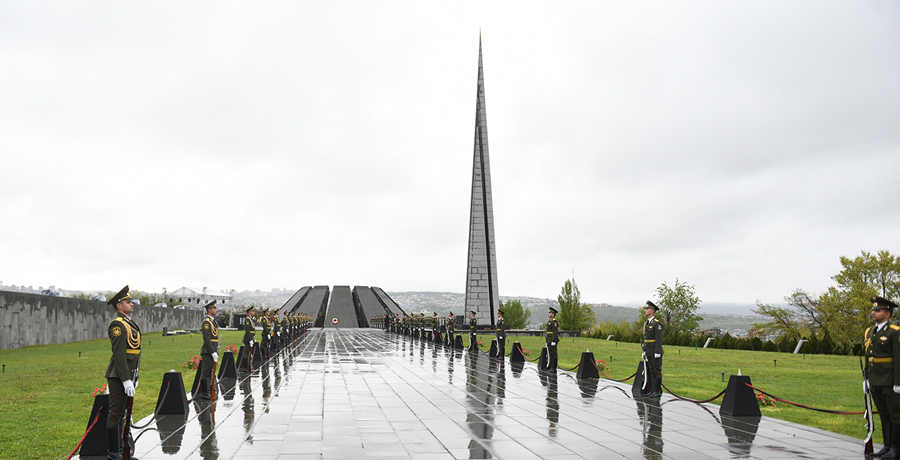 Rolling Away The Black Clouds
Chapter Eleven
April 24th Commemoration of the Armenian Genocide
By David Warner
For quite a few years now, on April 24 I would be in Ottawa for the annual Armenian Genocide commemoration held on Parliament Hill.  A large crowd, mostly from Montreal, Toronto and Cambridge would be in attendance for a very moving ceremony.  Someone from each of the political parties would address the crowd, then we would march along Rideau Street to the Embassy of Turkey, conveniently located adjacent to a city park.  There, Armenian youth have organized a program of music, poetry, and a few speeches.
My involvement goes back to 1979 when Sarkis Assadourian, who later would be a Member of Parliament, asked me if I would co-sponsor an all-party Resolution in the House recognizing the Armenian Genocide.  Not wanting to display my lack of knowledge I replied that I would give it consideration.  I headed to the library.  What I read there horrified me.  The genocide of 1915 is well documented, not only the systematic killing but that Turkey was responsible.  The survival of the Armenians was truly remarkable.  1,500,000 Armenians of a population of 2,000,000 were killed.  Survivors scattered around the world, many of them coming to a very welcoming Canada.
The Ontario Legislature passed the all-party Resolution.  Over the years the House of Commons, Senate and the Government of Canada also passed Resolutions recognizing the genocide.
In 1980 both Stephen Lewis and I were invited to the Armenian Community Centre in North York for the April 24 Commemoration.  Stephen was the guest speaker.  He had researched the topic even more thoroughly than I had.  His eloquence and passion confirmed for me that I needed to be supportive in whatever way I could.  So, for the past 4 decades I have had the privilege of working with the Armenian Community Centre in the cause of justice for the Armenians.  Theirs is a just cause that Turkey should acknowledge its guilt and begin the process of reconciliation.
"I should like to see any power of the world destroy this race, this small tribe of unimportant people, whose wars have all been fought and lost, whose structures have crumbled, literature is unread, music is unheard, and prayers are no more answered. Go ahead, destroy Armenia . See if you can do it. Send them into the desert without bread or water. Burn their homes and churches. Then see if they will not laugh, sing and pray again. For when two of them meet anywhere in the world, see if they will not create a New Armenia."  – William Saroyan
David Warner is a former politician in Ontario, Canada. He was a New Democratic Party member of the Legislative Assembly of Ontario on three separate occasions (spanning four terms) between 1975 and 1995, and served as Speaker of the Assembly during Bob Rae's administration.
William Saroyan (August 31, 1908 – May 18, 1981) was an Armenian-American novelist, playwright, and short story writer. He was awarded the Pulitzer Prize for Drama in 1940, and in 1943 won the Academy Award for Best Story for the film adaptation of his novel The Human Comedy.*      *wikipedia