Map of ancient Armenia unveiled in Germany causes stir in Turkish media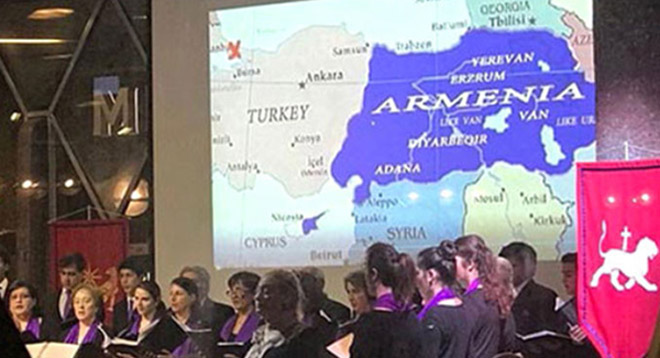 A map displayed at a community event in Germany on October 21 caused a stir in the Turkish media sources. Ermenihaber reports, an event named "Armenian History and Culture: Silent Ararat" held in the Cologne Catholic Church by the Armenian Primacy of Cologne featured a map of ancient Armenia with boundaries reaching as far as the present-day Turkey's Samsun to the north and Mersin in the south, covering the present territory of the self-declared Turkish Republic of Northern Cyprus.
The map was widely shared by Turkish news outlets and slammed by users on social media platforms with plenty of criticism toward both the Armenian community and accusations to German official circles for authorizing the event.
To note for reference, eastern parts of Turkey (formerly the Ottoman Empire) were part of the historical homeland of Armenians under the name Western Armenia that emerged following the division of Greater Armenia between the Byzantine Empire and Sassanid Persia in 387 AD.
The area was conquered by the Ottomans in the 16th century and became known as Turkish Armenia or Ottoman Armenia. During the 19th century, the Russian Empire conquered all of Eastern Armenia from Iran, while Armenian population of the Western part was affected under the Ottoman g