Armenian Legal Center Calls for Azerbaijani Accountability for anti-Armenian Crimes at UN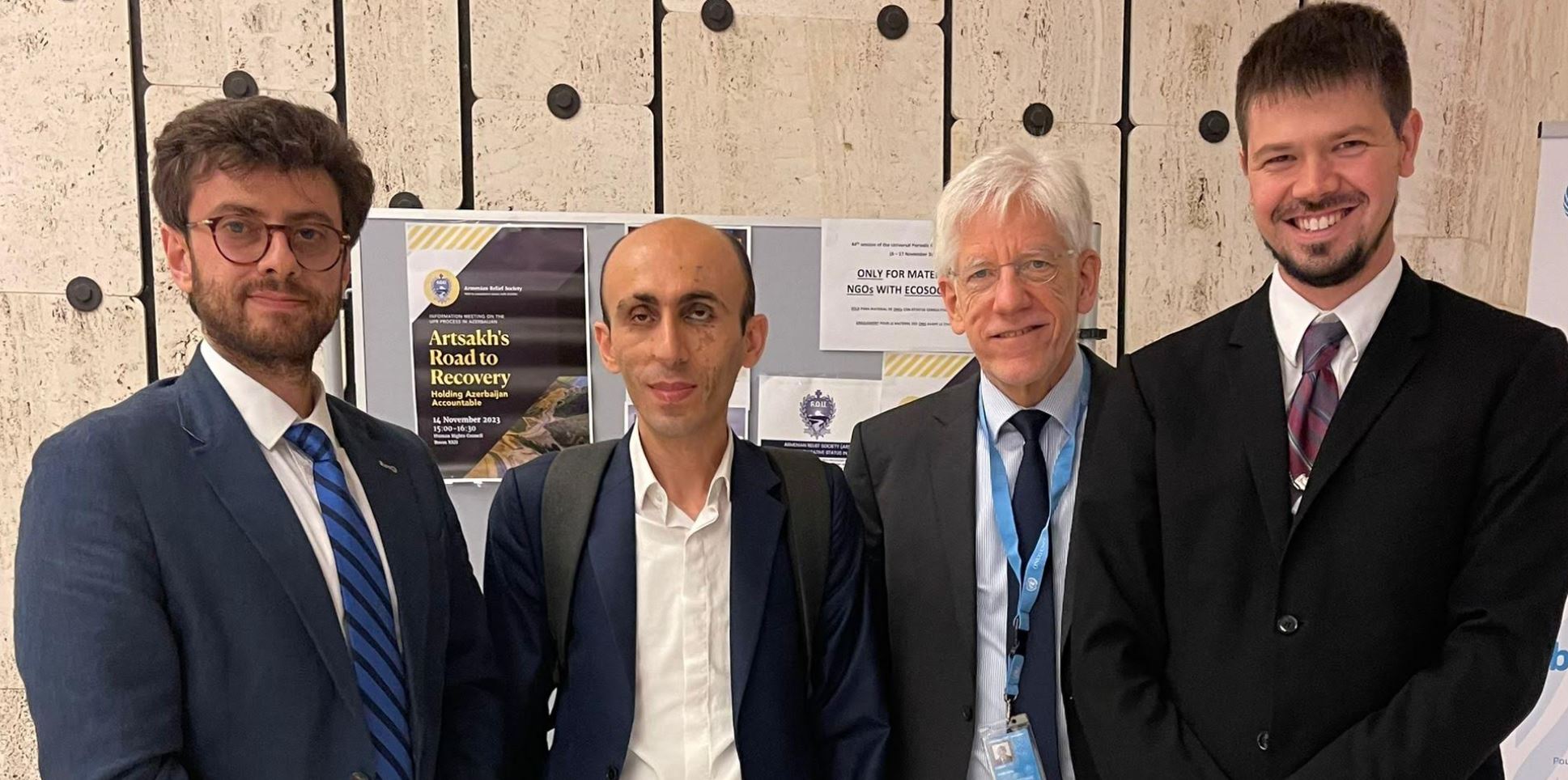 ALC Takes Strides in Advocacy for Human Rights in Azerbaijan's Universal Periodic Review at the Human Rights Council in Geneva
GENEVA, SWITZERLAND – The Armenian Legal Center for Justice and Human Rights (ALC) has actively engaged in advancing human rights advocacy as part of the Universal Periodic Review (UPR) process for Azerbaijan. Aligning with UPR procedures, ALC meticulously prepared an "other stakeholders report," presenting a comprehensive summary of pertinent human rights violations committed by Azerbaijan towards Armenians, Artsakh, and Armenia with a set of concrete recommendations. This report was submitted to the UPR Secretariat, contributing to the ongoing review of Azerbaijan's human rights record.
In addition to the UPR, over the last 18 months, ALC submitted relevant reports and legal analyses to various UN bodies, including Human Rights Treaty Bodies, Independent Experts, Special Rapporteurs, and Working Groups. ALC has also collaborated with international NGOs focused on human rights, furnishing them with reports and data to underscore the gravity of the violations and hold Azerbaijan accountable for its actions. The impact of ALC's contributions is evident in the UN's Summary of Stakeholders' Information Report, where its insights have been recognized.
Additionally, ALC has supported regional offices of Armenian National Committees in submitting relevant reports to the UPR secretariat and advocating for the rights of Armenians within their respective Ministries of Foreign Affairs, who also participate in the Working Group discussions on Azerbaijan's UPR. This advocacy has entailed posing inquiries and presenting specific recommendations, aiming to ensure Azerbaijan is held responsible for its violations of International Humanitarian law and International Human Rights Law.
ALC continues its commitment to this cause by actively participating in the Working Group Sessions of Azerbaijan's UPR, scheduled for November 14 and 17, 2023 at the Human Rights Council in Geneva.
Moreover, ALC is honored to take part in a side event organized by the Armenian Relief Society, titled "Artsakh's Road to Recovery: Holding Azerbaijan Accountable" at Human Rights Council's Palais Des Nations.  This event, held in conjunction with the UPR process for Azerbaijan, aims to foster discussions among experts, state delegations, stakeholders, and advocates concerning the human rights challenges and opportunities for accountability in light of recent tragic events in Artsakh that resulted in the forced displacement of over 100,000 Armenians following nine months of a blockade and starvation as well as an unprovoked military assault on 19 September 2023. This mass exodus left behind a rich cultural heritage, churches, monuments, and ancient Armenian sites. ALC, leveraging its expertise in genocide issues, ethnic cleansing, and forced displacement, seeks to enrich the dialogue.
In light of recent events, ALC calls upon the international community to impose sanctions on Azerbaijan for its recent heinous crimes. Key recommendations include the urgent release of detained Artsakh leaders and Prisoners of War (PoWs), ensuring their safe return to their families. Emphasis is also placed on the fundamental right of the Artsakh people to return to their homes and live in peace and security, as well as the reaffirmation of their right to self-determination in accordance with the UN Charter.
ALC urges the provision of urgent humanitarian aid to displaced Armenians, establishment of a fair property claims process for displaced Artsakh residents, advocacy for the protection and preservation of cultural heritage in the region through international monitoring, and encouragement of diplomatic efforts to secure the rights of the Armenian population in Artsakh.
Finally, ALC firmly calls for accountability for violations of international law and human rights abuses during the conflict in Azerbaijan, emphasizing the importance of justice in the pursuit of lasting peace and stability in the region.
Photo Caption: ALC Board Member Kevork Hagopgian, former Artsakh State Minister Artak Beglaryan, Christian Solidarity International (CSI) International President Dr. John Eibner, and CSI-USA Board Member Joel Veldkamp at the UN, as they prepare to participate in "Artsakh's Road to Recovery: Holding Azerbaijan Accountable," a side panel organized by the ARS, as the UN Human Rights Commission conducts Azerbaijan's Universal Periodic Review.