At CSTO, Armenia's Security Council chief calls for targeted assessment of the situation in Artsakh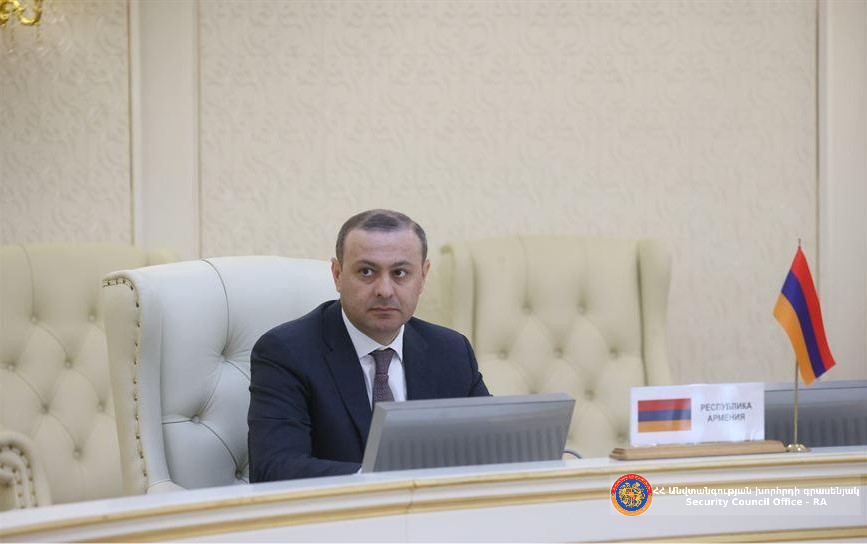 Azerbaijan continues the policy of using force or the threat of force and tries to impede the implementation of previously reached agreements, Secretary of the Armenian Security Council Armen Grigoryan said, addressing the regular session of Security Council Secretaries of CSTO member states.
"Furthermore, Azerbaijan continues to escalate the situation not only on the Armenian-Azerbaijani border, but also in Nagorno-Karabakh and the Lachin Corridor," Grigoryan said.
He noted that the fact of non-recognition of the Azerbaijani aggression against the sovereign territory of the Republic of Armenia and the attempt to link it to the non-implementation of the demarcation process of the Armenian-Azerbaijani border are unfounded.
Secretary Grigoryan called on his colleagues to give a clear and targeted assessment of the situation in Nagorno Karabakh and to take effective steps so that the 120 thousand Armenians living in Nagorno Karabakh are not subjected to ethnic cleansing.
In this context, the creation of an international mechanism for ensuring the rights and security of the people of Nagorno Karabakh remains a priority for Armenia, he stressed.