Residents in the Colombian city of Armenia outraged by huge Turkish mural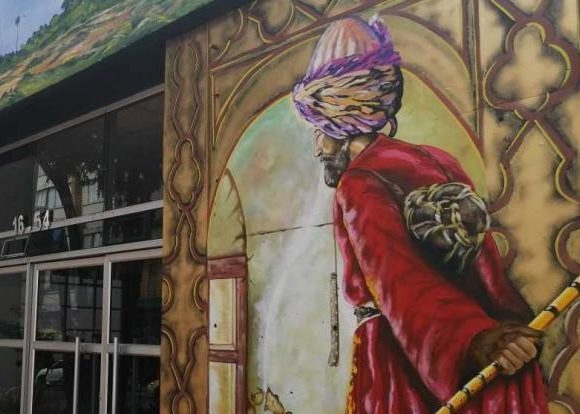 Armenia, the capital city of Quindío, Colombia, is boasting a new mural of a man wearing Ottoman-era garb on the side of its city council building, an image with no historical correlation to the city that is confusing, and angering, many residents, Breitbart News reports.
The mural, by artist Hollman Henao Díaz, is the product of the city's mayor opening cultural bonds with the state of Turkey after the administration of Turkish President Recep Tayyip Erdogan invited him and several council members to Ankara this year for a summit to tell the municipal officials "the other side" of the story of the Armenian genocide, according to the Colombian magazine Semana.
While the debate lives on regarding any concrete ties linking Armenia the city to Armenia the country, in honor of its namesake, the Colombian city has formally recognized the genocide as such, something neither the federal governments of Colombia or Turkey have done.
The regional newspaper La Crónica de Quindío reported Wednesday that locals appear baffled, and some outraged, by the expensive mural, which they find irrelevant to their heritage.
"I don't really understand what Armenia [the Colombian city] has to do with Turkey. I think that what they need is to pay back favors for that little trip they took," a woman named Maricela
"It is not logical that something like this would be painted on such a pretty department," she added.The newspaper quotes another resident who says he is not angry, merely "confused."
"We Quindianos are confused because we don't understand what a sultan has to do with Armenia [the city]," Jorge Jaramillo said. "What is happening to us? Please, serious statesmen have to take the reins of this city. This is truly horrible for our capital."
The president of the city council, Diego Torres Vizcaino, said in a statement that the mural is part of a cultural exchange with Turkey that will go both ways, according to Colombia's El Tiempo.
El Tiempo notes that the council is not only considering cultural favors to Turkey. They are now openly debating amending the 2014 declaration the city passed recognizing the Armenian genocide.
Councilman Luis Guillermo Agudelo has expressed outrage about the trip and called the mural "an absurdity."
"This is a public building that has a very important connotation," he told El Tiempo. "This is where our gallery was, and now they are totally changing its identity."