Los Angeles Plastic Surgeon Dr. Panossian Gives Kids Smiles in Armenia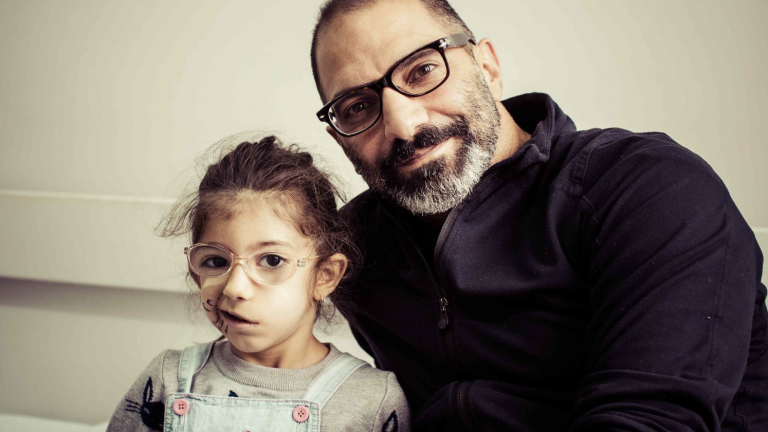 Award-winning plastic and reconstructive surgeon Dr. Andre Panossian of Los Angeles is volunteering his skills to travel to Armenia again this month (June 2019) to give dozens of children the ability to smile for the fourth consecutive year. In 2016, Dr. Panossian partnered with LA-based organization Mending Kids to launch a surgical mission to the region, a then first-time destination for the 15 year old non-profit organization. What started as a one-man effort has grown into a formidable team of volunteers and assistants who perform complex surgeries in Armenia annually.
By: Jill Simonian
iamthevoluntourist.com
The ongoing pilgrimage is unique and focuses on highly sub-specialized reconstructive surgery — facial paralysis/reanimation, neurofibromatosis, vascular and congenial hand anomalies and general pediatric plastic surgery. Facial reanimation surgery (for which Dr. Panossian has a rare technique — he's the only plastic surgeon in the U.S. to use it) transplants a nerve from another part of a patient's face into muscles near the mouth that enable people to smile. "This is the hard, complicated stuff that isn't always easy to do with teams of doctors overseas, without your usual staff or equipment," Dr. Panossian points out. "I do love it."
Although Armenia has made significant progress in the area of public health, much of the local medical community still lacks advanced techniques and equipment to resolve complex cases independently. Dr. Panossian offers Yerevan-based doctors and surgeons education and training in advanced techniques — each mission hosts over 20 physicians from the region to attend pre-op clinics, lectures and participate in bedside teaching. Mending Kids additionally provides equipment for local teams to utilize independently after the mission is complete — equipment donations have included everything from surgical power equipment (drills and saws) to magnification loupes.
"Working with families and doctors in Armenia ranks as one of my most treasured ongoing experiences — it's my heritage, part of my soul. This year, my wife and daughters are traveling with me and I'm excited for them to experience how meaningful this mission is," Dr. Panossian says. "If we can't contribute to our roots and culture with what each of us do, then what's it all for?"
Clinics and surgeries will take place at Arabkir Medical Center in Yerevan, Armenia during the last week of June. To learn more, become a volunteer for future missions and/or donate directly, visit MendingKids.org/Armenia. To connect with Dr. Panossian (reconstructive & aesthetic surgery, pediatric & adults), visit DrPanossian.com.
Dr. Panossian specializes in rhinoplasty, facial paralysis and cosmetic & reconstructive surgery of the face and body. Dr. Panossian is additionally renown for being one of the top surgeons in the United States who treats and removes tumors on patients with Neurofibromatosis. A board certified plastic surgeon who rotates his practice between pediatric and adult cases, Dr. Panossian has been featured as one of LA Business Journal's "Top Doctors," was named a go-to plastic surgeon for "Rhinoplasty in Los Angeles" by Maxim Magazine and was also featured on CBS Nightly News in 2015 for his part in a groundbreaking, twin-separating surgery in Haiti. Some of his most unique facial paralysis reanimation surgeries have been featured on CBS' "The Doctors," ABC's "Good Morning America," ABC-7 and KTLA-5 News (Los Angeles) and The Los Angeles Times. Visit Dr.Panossian.com for more information, connect on Instagram and Facebook @drpanossian.