Horizon Weekly Exclusuve Interview with Chairman of the Canada- Armenia Parliamentary Friendship Group Bryan May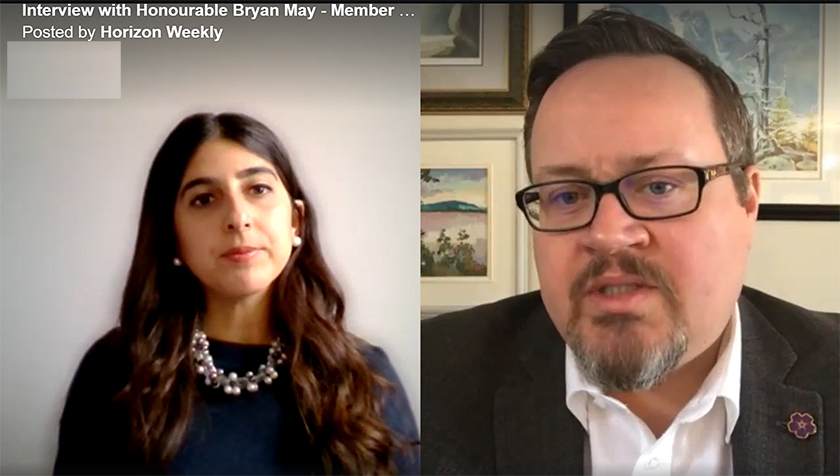 It's important to honour the memory of 1.5 million Armenians who lost their lives during the genocide: Bryan May, Member of Parliament
On April 21st, Nazeeg Haneshian, Senior Correspondent of Horizon Weekly had a virtual interview with Honourable Bryan May, Member of Parliament of the Cambridge riding (since 2015) who has been the Chair of the Canada- Armenia Parliamentary Friendship Group since 2017.
In the meeting Honourable Bryan May provided updates regarding the current pandemic, and shared his gratitude to the local Armenian Community that has been responsive and taking all necessary measures at this time. He guided the community to available resources, acknowledging the efforts of all those on the front lines, including public servants, local essential workers and the leadership of Prime Minister Trudeau.
Honourable Bryan May shared his message to the Armenian Community as we approach April 24, "It's important we continue to honour the memory of over 1.5 million Armenians that lost their lives during the genocide." This year will not be different as "people will come together to share their stories and compassion," although it may not be physically this year.
At the close of the meeting, Honourable May encouraged everyone to reach out to family, friends and anyone that may be physically alone at this time – to remind them that although we are physically distant, there are many tools to keep us all socially connected.
Interview with Honourable Bryan May – Member of Parliament for the Cambridge Riding

It's important to honour the memory of 1.5 million Armenians who lost their lives during the genocide: Bryan May, Member of ParliamentOn April 21st, Nazeeg Haneshian, Senior Correspondent of Horizon Weekly had a virtual interview with Honourable Bryan May, Member of Parliament of the Cambridge riding (since 2015) who has been the Chair of the Canada- Armenia Parliamentary Friendship Group since 2017.In the meeting Honourable Bryan May provided updates regarding the current pandemic, and shared his gratitude to the local Armenian Community that has been responsive and taking all necessary measures at this time. He guided the community to available resources, acknowledging the efforts of all those on the front lines, including public servants, local essential workers and the leadership of Prime Minister Trudeau.Honourable Bryan May shared his message to the Armenian Community as we approach April 24, "It's important we continue to honour the memory of over 1.5 million Armenians that lost their lives during the genocide." This year will not be different as "people will come together to share their stories and compassion," although it may not be physically this year.At the close of the meeting, Honourable May encouraged everyone to reach out to family, friends and anyone that may be physically alone at this time – to remind them that although we are physically distant, there are many tools to keep us all socially connected.

Posted by Horizon Weekly on Friday, April 24, 2020