Greek lawyer takes on Erdogan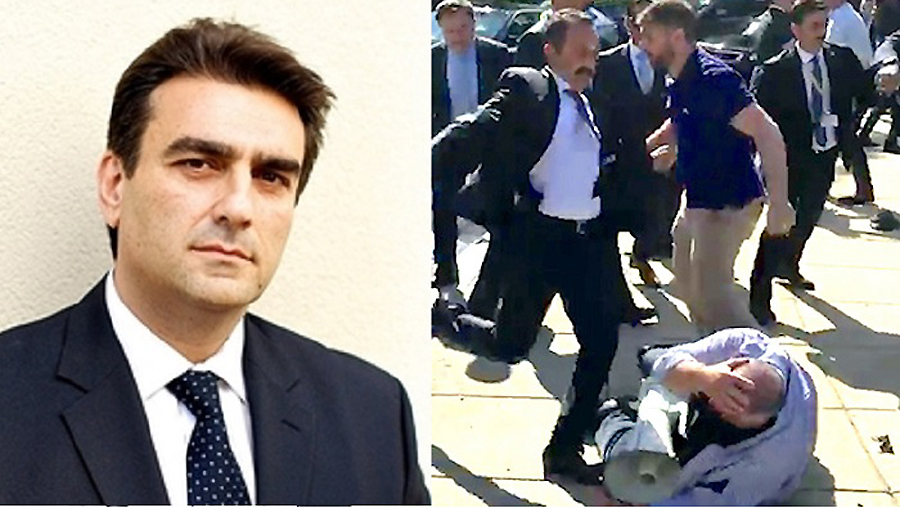 Greek lawyer Andreas Akaras believes he has a strong case against Recep Tayyip Erdoğan in a civil lawsuit alleging the Turkish president ordered his bodyguards to beat protesters in Washington, D.C. in May 2017, Greek Reporter said on Monday.
The violent clashes occurred during Erdogan's official visit to the US. His security forces and several armed individuals violently charged a group of protesters outside the Turkish ambassador's residence in what the police characterized as a "brutal attack."
The US State Department condemned the attack as an assault on free speech, and warned Turkey that the action would not be tolerated.
Akaras, a lawyer for the Maryland-based firm Bregman, Berbert, Schwartz & Gilday, was instrumental in drafting a notice, summons and complaint for the lawsuit which was served at the Turkish ministry of foreign affairs in December.
If Turkey ignores the summons, litigation will move forward without the nation of Turkey being represented.
Akaras says the order to brutally suppress the Kurdish demonstration was meant to curb the right to free expression. Erdogan was sending the message saying "I can waste you" to Kurds and other protesters in Turkey, said Akaras.
The attorney acknowledges that the case could drag on for several years, but he believes it is a strong one. The evidence against Erdogan's guards, which was also laid out in painstaking detail by The New York Times, among other news outlets, is seen as quite damning.
Evidence includes footage of the head of Erdogan's security detail, Muhsin Kose, leaning into the Turkish president's black Mercedes after it pulled up at the ambassador's residence.
"After speaking with Mr. Erdogan, Mr. Kose talked into his earpiece, and three security personnel who were guarding the president's car hurried toward the protest," the Times reported.
"The brawl began moments later, and one of these men, a heavy-set bald man, appeared on video punching and kicking people," according to the Times article.
Akaras has served on the staff of Greek-American Congressman John P. Sarbanes. He has been actively involved in civic affairs and national politics, including grassroots campaigns, national campaign committees, and gubernatorial transition teams.
He is also the founder of Saint Andrew's Freedom Forum, a nonprofit association active in the United States and Europe which promotes awareness of matters affecting democratic liberties, human rights and religious freedom.