Erdogan's Bodyguards Involved in Brutal Attack on Washington DC Protesters – Video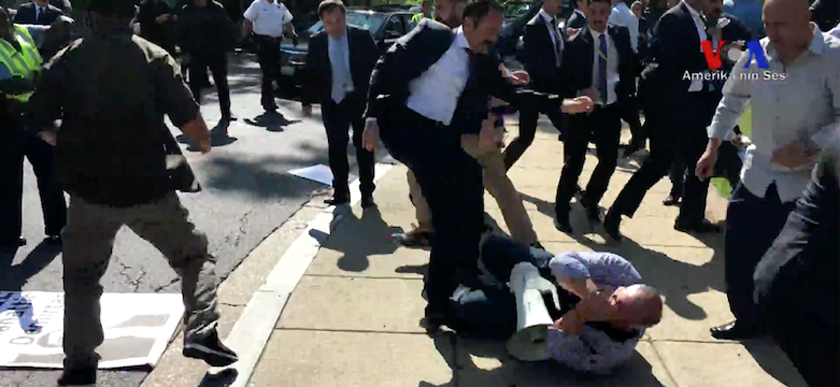 WASHINGTON—Some of the people who launched a brutal attack Tuesday on demonstrator in front the Turkish Ambassador's residence were identified as members of the Turkish President Recep Tayyip Erdogan's security team.
The demonstration began at Lafayette Square at noon, when Erdogan was meeting with President Donald Trump at the White House. Following the White House meeting, Erdogan met with a group of US businessmen at the Turkish Ambassador's residence across from Sheridan Circle, where another group of protesters were gathered. The pro-Erdogan group broke through the police line, stormed the circle and began beating the demonstrators gathered at the circle.
Washington Police Chief Peter Newsham told a news conference Wednesday that 11 people were injured, including a police officer, and nine were taken to a hospital.
"Yesterday we witnessed what appeared to be a brutal attack on peaceful protests," Chief Newsham said. "First and foremost I will say that that is not something that we will tolerate here in Washington, D.C.," he said. "This is a city where people should be able to come and peacefully protest."
Newsham added that some members of the pro-Erdogan group were carrying firearms, which made it more difficult for police to contain the scene. While he did not confirm whether Erdogan's security team was involved in the attack, he did say that his department was working with the State Department and Secret Service to identify the suspects. The Turkish Anadolou News Agency reported that, in fact, Erdogan's security team was involved in the attack
"We intend to assure that there is accountability for anyone involved in this assault," he said.
DC Mayor Muriel Bowser issued a statement Wednesday decrying the attack.
"What we saw yesterday—a violent attack on a peaceful demonstration—is an affront to D.C. values and our rights as Americans. I strongly condemn these actions and have been briefed by Chief Newsham on our response. The Metropolitan Police Department will continue investigating the incident and will work with federal partners to ensure justice is served," said the Bowser's statement.
"We commend Mayor Bowser and Police Chief Newsham for taking the lead in condemning this vicious attack on peaceful protesters in Washington, DC and look forward to working closely with federal and metropolitan law enforcement officials to ensure that justice is served," said ANCA Executive Director Aram Hamparian. "President Erdogan may be able to get away with similar attacks and repression in Turkey – but we simply cannot allow him to export his brand of hatred and repression to our nation's capital or anywhere in the US."
On Wednesday afternoon, the State Department announced it was "concerned by the violent incidents involving protesters and Turkish Security personnel on Tuesday evening," stating that "violence is never an appropriate response to free speech."
Hamparian condemned the State Department statement as "weak and ineffective – and, frankly, embarrassing."
"Apparently, as far as the State Department is concerned, there is no line that Recep Erdogan cannot cross," explained Hamparian. "He sent his goons to DC to rough up Americans and suppress the free speech rights of US citizens, and all the State Department can muster is a generic expression of opposition to violence."
Sen. John McCain also took to Twitter to condemn the attack.
"This is the United States of America," he said on Twitter. "We do not do this here."