Canadian Committee for the relief of Armenians in Lebanon COMMUNIQUÉ # 3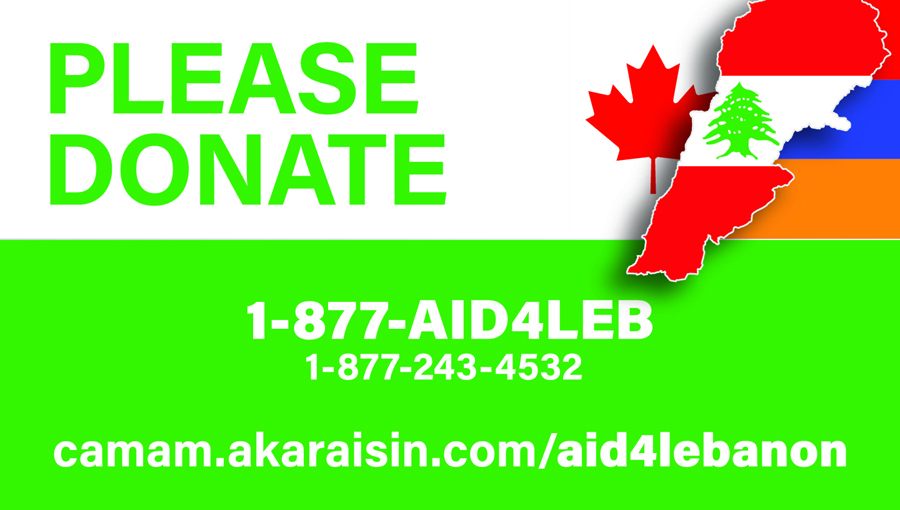 Dear compatriots,
The economic and social situation in Lebanon is deteriorating daily and becoming increasingly alarming. For lack of fuel, many areas are no longer supplied with electricity and water. The people of Lebanon are facing a massive deterioration of the situation and untenable living conditions.
Dear compatriots, the situation is such that every penny can save an Armenian family.
You can thus make you donations to the new online account, by telephone or by mail.
1- Make your donations:
ONLINE, AT OUR NEW DONATION LINK:
https://camam.akaraisin.com/Aid4Lebanon
where you will also receive immediately your receipt for income tax purposes.
By calling the 1 -877-243–4532 (1-877-AID4LEB) toll-free number
By mailing your cheques made to C.A.M.A.M. to the following address:
C.A.M.A.M.
3401 Rue Olivar-Asselin
Montréal, QC
H4J 1L5
2- Don't forget to participate to our Aid4Lebanon telethon-fundraiser on Thursday, July 9, from 8:30 pm to 10:00 pm: The telethon will be broadcast live from the following sites:
com/Aid4Lebanon
ca/live-video/
To follow our activities, visit the Aid for Lebanon facebook page as well as the Aid4lebanon  instagram account.
Let's help our brothers and sisters in Lebanon.
Let's reach for our wallets.
Let's reach out to them.
CANADIAN COMMITTEE FOR THE RELIEF OF ARMENIANS IN LEBANON