"Balanced Coverage" and the Artsakh War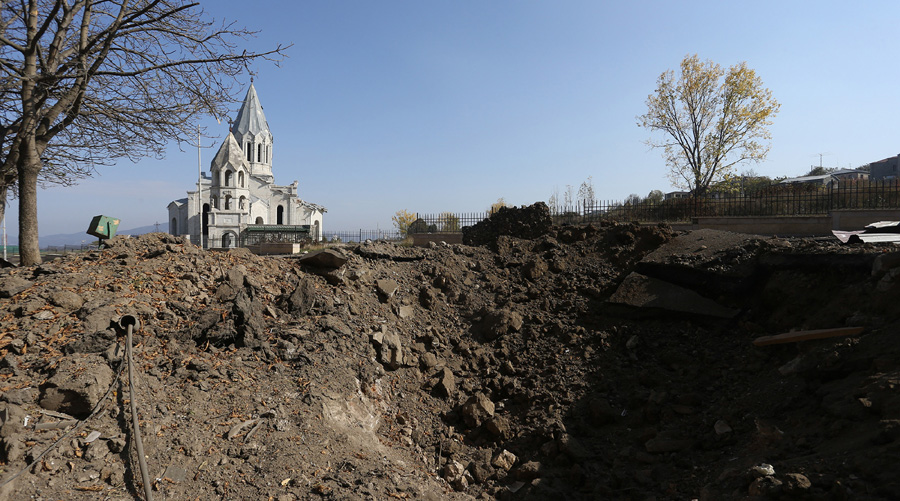 Goryoun Koyounian
Much of media reporting on the Artsakh war between Armenia and Azerbaijan displayed some of the major pitfalls of "balanced coverage". Some can be worked on; others are intrinsic to the system.
Before delving into cases which exhibit such shortcomings, I think it's worth heading off this article with a basic understanding of "balanced coverage" and why it is, in fact, valuable in many ways.
Some version of the "balance" principle tends to be found in nearly all mainstream outlets' code of ethics. The idea, as noted by the Canadian Press, is to "give fair representation to all issues". What does this entail substantively? The CP guide continues: "Parties in controversy, whether in politics or law or otherwise, receive fair consideration. Statements issued by conflicting interests merit equal prominence, whether combined in a single story or used at separate times. But always try to get opposing sides for simultaneous publication."
As a student journalist at Concordia University, I've become increasingly familiarized with these precepts. Having to publish morning newscasts along with other team members, I've grown accustomed to the habit of (trying to) cover the full scope of an argument in my stories. Part of the reason this is so important is because of the very nature of mainstream news consumption. Readers expect a concise story that relays a newsy event as immediately as possible. For journalists, that considerably narrows the window for the sort of in-depth explanatory journalism that would fully capture the news.
Having now set aside the structural incentives present in news journalism, allow me to present cases where that "balanced" mindset has fallen short.
The war over Nagorno-Karabakh began on September 27, in what is now understood to be a major Azerbaijani offensive, backed up by its ally in NATO Turkey, to reclaim the lands Azerbaijan claims as its own. Admittedly, identification of an initiator can be very tough, especially in a conflict where crucial systems for detection and attack sourcing are absent, largely because Azerbaijan has repeatedly deflected such proposals.
However, there had also been considerable reporting prior to Sept. 27 on Azerbaijan's preparations along with its ally Turkey for such a major operation, along with the latter's more expansionist aspirations. For instance, a Jamestown Foundation report from mid-August noted how the two countries had begun to hold large-scale military drills, adding a translated quote from Yeni Safak that "Ankara seems determined to broaden the geography of its rise as an influential regional player." Given this, as well as the seemingly superior capabilities of the Azeri-Turkish alliance, and Azerbaijan's clear determination to reclaim the lands in Karabakh, news stories covering the initial uncertainty of the perpetrator's identification should've included such caveats.
To its credit, Eurasianet, the prominent outlet covering the South Caucasus and Central Asia, accounted for these factors in its first report on the outbreak of war on Sept. 27. However, many others did not. In its first report on that Sunday, Global News, a mainstream Canadian publication, cited a groundless assertion by Azerbaijan that their forces "responded to Armenian shelling", coupled with an opposing statement from Armenia. Similarly, the National Post made note of the conflicting statements with scant mention of the structural incentives laid out above.
Some version of this false balance also affected news coverage in Armenia and Azerbaijan. In this domestic setting, a greater emphasis on national mobilization and "good-spirits journalism" meant that many reports paid undue deference to statements from officials, particularly press releases from military representatives. Again, much of this comes down to top-down constraints imposed by governments themselves; when journalists have a small window for publishing news and there's limited information beyond official statements, they're often forced to carry those statements to the public.
However, context and background information, especially in these circumstances, ought to be included as much as possible. A most prominent example features the late battle over the strategic town of Shushi in early November, as Azeri forces were pressing forward with full strength. Meanwhile, Armenian government officials were trying to maintain the, now ridiculous, position that the fight could plausibly go either way. When Azerbaijan's President Ilham Aliyev formally declared on November 8th that they had captured the important town overseeing Karabakh's capital Stepanakert, Armenian military officials suggested that wasn't the case: "The overall situation can be assessed as quite favorable. Our troops are able to hamper all the attempts for a success of the adversary, but the clashes are still going on," stated Defence Ministry spokesman Artsrun Hovhannisian. Most puzzling, the next day, Prime Minister Nikol Pashinyan wrote on Facebook that "the battle for Shushi continues", contradicting an earlier statement from a Karabakh official on the subject.
It is certainly easy to judge these events in hindsight, and it's important to reiterate the tough conditions many journalists found themselves in. That said, one can't help but note that more information was necessary, particularly given the deep sense of surprise most Armenians found themselves in when the ceasefire agreement was announced. If events had been building up to that inevitable point, as we now know they had, readers should've been prepared to process that fact.
In the run-up to the Iraq war, many American officials, and most notably the President himself George W. Bush, were seen parroting the official line that Saddam Hussein's Iraq had weapons of mass destruction, and this warranted a military intervention. Instead of critically reporting on such assertions, many publications of high esteem became what Brent Cunningham called "passive recipients of news, rather than aggressive explainers and analyzers of it".
Good coverage can be tough. It's even tougher when governments restrict the informational flow in society, forcing the hand of the media. Wherever possible, though, journalists should strive to capture the news in its entirety, in all its messiness and complexity, even if it may offend some. Because, in the end, that's what journalism is all about.