Azerbaijani Opposition Activists Hold Anti-corruption Protest in Baku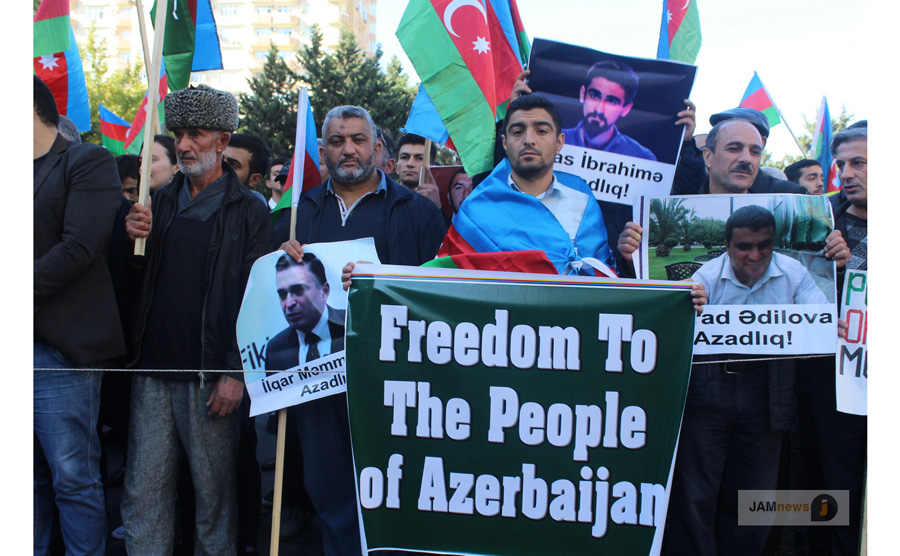 Authorities' position on the settlement of the Karabakh conflict criticized
(Jamnews) – On 7 October the opposing National Council of Democratic Forces of Azerbaijan (NCDF) held another rally under the slogan "End corruption, free political prisoners!". Like previous demonstrations by the NCDF, this rally was approved by the city authorities of Baku.
According to a JAMnews correspondent, about 1,000 people came to the rally, which is at least half as many participants as the last rally. The demonstration was held under police protection without incident.
Ali Kerimli, leader of the Azerbaijani Popular Front Party (APFP) said that the authorities tried to distrupt the rally in every way. According to him, the police had summoned about 200 activists in recent weeks, while sixteen people were placed under administrative arrest.
Kerimli once again criticized the authorities for corruption, which has become an object of international criticism.
"We expect the international community to complete the investigation into the [US] $3 billion money laundering scandal from Azerbaijan, and to punish those responsible," Kerimli said.
Unlike prior rallies, this time the slogans seemed more radical. There were posters criticizing the authorities' passiveness towards the resolution of the Karabakh conflict for example.
Kerimli also said that funds allocated to the army were spent on low-quality weapons. In return, the authorities conducted a "wine policy of pacification with the enemies of Azerbaijan".
The Chairman of the NCDF, Jamil Hasanli, also spoke a lot about corruption, particularly that Azerbaijan is governed by a "kleptocratic government of oligarchic ministers".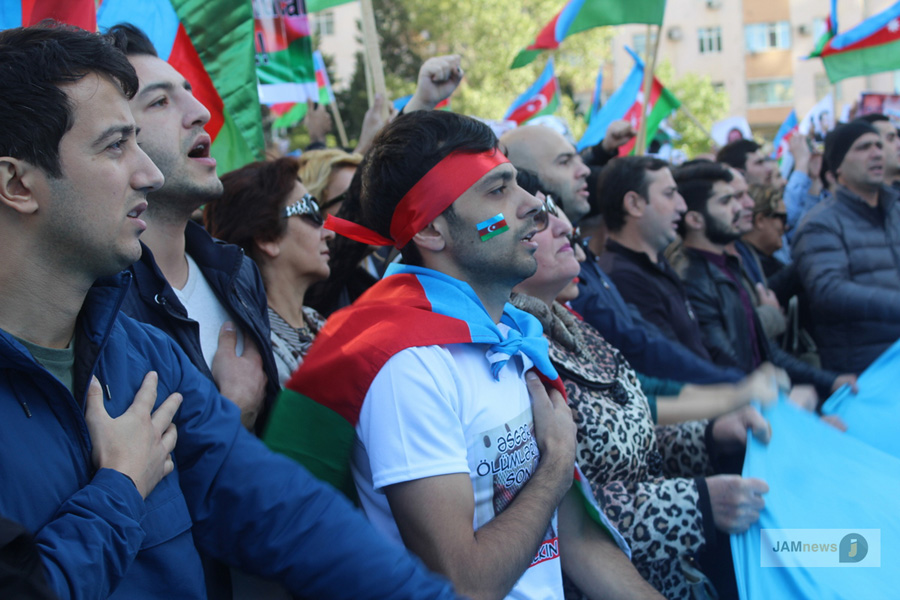 The electricity was cut off for about five minutes during Hasanli's speech at the stadium where the rally was held.
The electricity was also cut off during the announcement of the picket resolution, at the exact moment when the demand to return the 'stolen 2.9 billion' to the country was made.
Additionally, the wireless internet system around the stadium was not working either, so participants and journalists could not broadcast live from the rally.
The NCDF has demanded an investigation into these events, and announced that the next rally will be held on 28 October.