"A stronger diplomatic presence in Armenia is our objective" – Interview with Canadian Foreign Minister Chrystia Freeland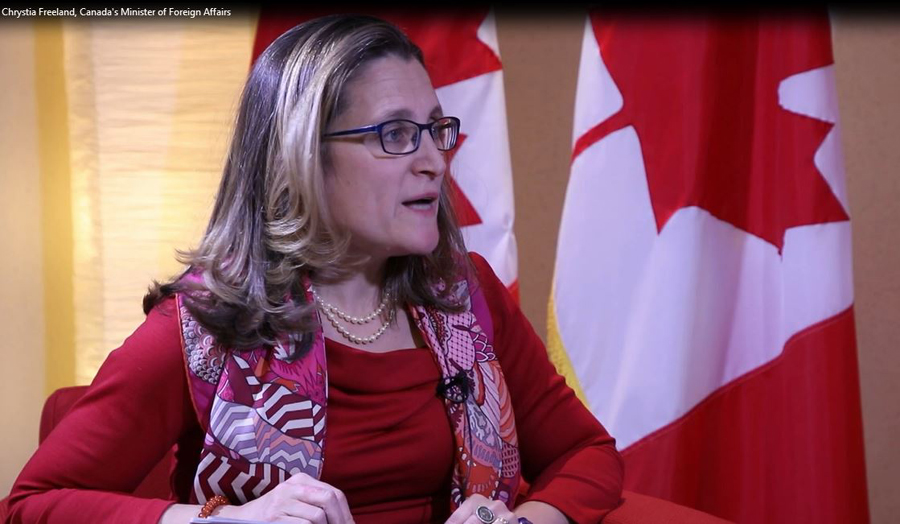 "Growing a richer, deeper, and stronger relationship including a stronger diplomatic presence in Armenia is our objective" – Horizon Weekly Exclusive Interview with Canadian Foreign Minister Chrystia Freeland
" Canadians are proud of the Canadian-Armenian community"
 On Tuesday, January 15th, Horizon Weekly editor-in-chief Vahakn Karakashian sat down with Canadian Foreign Minister Chrystia Freeland for an exclusive interview.
Ms. Freeland first had the opportunity to address concerns regarding Canada's ongoing disputes with China as well as challenges relating to the NAFTA renegotiation. In both cases, she emphasized the importance of a resolution to any outstanding issues, also highlighting the crucial role of international trade for Canada's economy.
The Foreign Minister was also provided the opportunity to elaborate on Canada's long-term objectives vis-à-vis its diplomatic and commercial relationship with Armenia, in the context of Prime Minister Justin Trudeau's visit to Yerevan last October for the Francophonie Summit. As Mr. Karakashian noted, the issue of a permanent Canadian presence in Armenia including a potential embassy in Yerevan is indeed an important one for the Canadian-Armenian community.
Minister Freeland shared with Horizon the Prime Minister's deep enthusiasm leading up to the Summit and his cheeriness at having caught a glimpse of the country once again and having met with the new Armenian government. Having already visited Armenia as a journalist in the '90s, she said she certainly understood the Prime Minister's exuberance at the end of that trip. Canadians, she added, are "proud of the Canadian-Armenian community" and recognize the important value it brings to the country.
That is, the Foreign Minister pointed out, an already-strong foundation upon which to grow a richer, deeper, and stronger relationship [with the Republic of Armenia] whereby the need for a stronger diplomatic presence would then come naturally.
Ms. Freeland also had the opportunity to talk about her book Plutocrats: The Rise of the New Global Super-Rich and the Fall of Everyone Else, published in 2012, which detailed an ever-widening gap between rich and poor. Instead of an economic system which disproportionately benefits those at the top, she argues, a good society must be able to guarantee a strong social safety net which ensures no one is left behind.
Watch the full interview. Video edited and produced by Hakob Papazyan.